In this step-by-step guide to abstract flower painting (for beginners!) I will help you learn the skills necessary to create a beautiful work of art! I have literally NEVER met a person who didn't enjoy seeing some beautiful flowers, whether in person or in a painting. Flowers are a striking, vibrant symbol of life that remind us how beautiful, delicate, and fleeting life can be. Flower paintings have been around as long as there have been flowers, and I don't think demand or appreciation for them will ever disappear. 
Abstract Flower Painting for Beginners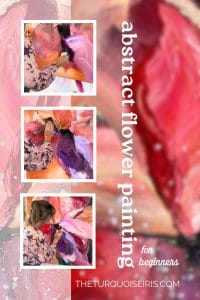 Ready to dive into the colorful world of abstract flower painting? Let's get you started!
Abstract Flower Painting Supplies
Before you begin, make sure you have all the supplies you need! Brushes, paint, a mixing palette, water, and your canvas are a good place to start. 
Paint
Grab any colors you like, plus white to mix your highlights and a dark color to mix your shadows. 
Not sure which paints to use for your abstract flower painting?
I have been using DIY Furniture Paint for years and I swore it would be the only paint I ever used… And it has been, until DIY Paint released their new product, Painterly! Made using Japanese pigments, this opaque, non-acrylic artist paint is blendable and water-activated. It lives outside the rules of artistry and is a non-traditional paint perfect for artists of any kind! I'll still reach for my trusty DIY furniture paint from time to time, but I love that DIY has given me the perfect, highly-pigmented paint product of my dreams.
Brushes
Find more brushes and painting tools in my shop. Not sure what you need? My guide to choosing the right paint brush is FREE on my blog!
Canvas
While most of the tips you'll see below reference painting on a conventional canvas, I am a firm believer that no artist should be boxed in! My greatest love is painting furniture art and that has extended to other unconventional canvases like dresses, drop cloths, leather art journals, and even hats.
Step-by-Step Guide to Abstract Flower Painting
Find some floral references for your abstract flower painting.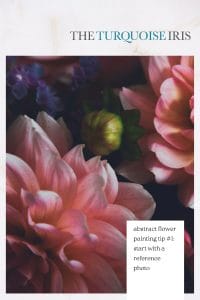 Make it a priority to get outside in nature and take reference photos of flowers in your area! Look for the textures of nature, like the velvety soft veins in a flower petal, the bark on a tree, or the variegated lines in a plant. I even love to pause and examine rocks, looking for variation between the layers of minerals and sparkle! If you don't have the time or ability to find flowers near you, check out the BloomTV Network! They have a fantastic blog full of fabulous floral reference photos or you can use code "DionneW2022" to receive 10% off your subscription.
Study shape, form, color, and contrast.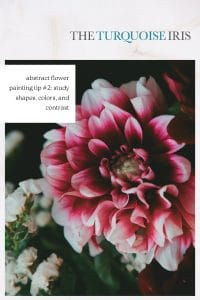 When working on an abstract, the subject is expressed using shapes and forms, shadows, colors, and contrast instead of photo-accurate details. That said, it's important to use photo references and familiarize yourself with the flowers you're representing so you can identify those important elements. 
The shapes you paint are important. For example, if your abstract flower painting features one large flower, then you'll want to focus on the shape of each petal. If you plan to feature multiple flowers, such as in a bouquet, then you should aim to capture the shape of each blossom as a whole. To create depth in your painting, look at where the highlights and shadows fall in your reference image and try to reflect that contrast. When it comes to color, it's more important to understand the relationships between the colors in your reference image than it is to stay true-to-life. You can use any colors you like as long as you maintain balance and composition!
Start strong.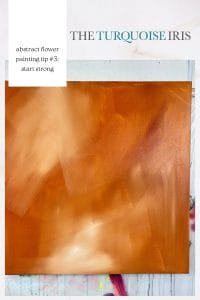 When starting with a blank canvas, it's easy to be really excited about what might develop in front of your eyes, thinking ahead to the final product. Before you get started, I challenge you to try to stay as present as possible. While you're painting, try focusing not on the outcome of your work but on the color or tool you are using at each moment. 
Start your abstract flower painting by laying down your underpainting. This first layer of paint primes your canvas and provides a foundation for the layers to come! It's an excellent technique for establishing some built-in contrast and tones.
Block out your shapes and shadows.
Once your underpainting is dry, you can move on to blocking out your next layers. This step is about composing your canvas with a focus on light, shapes, contrast, and the connection between each element on the canvas. I like to paint lots of flowers on my canvas, which means I focus on a bouquet as a whole section to block out. 
First, I study where there are gaps between flowers and which flowers seem to be reaching for the sun. I put brighter, lighter colors where the light touches and darker, more muted colors where there should be shadows. If a flower is pink, I might apply a deep burgundy where the shadows should be and blend in bright magenta where the blossom is most vibrant. Trust your intuition and reach for the colors that call to you as you mimic the contrast between light and dark, hue and shade.
Add variety.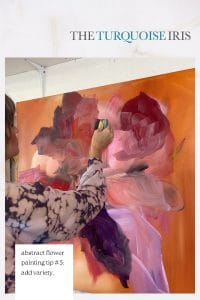 Have you ever looked at a painting and thought, "That's pretty, so why does it seem a bit boring?" Well, I've got your answer! When everything in a painting is uniform —meaning no changes in shade, tone, line weight, or texture— it can lose visual interest. To avoid that flat, one-dimensional effect, we need to mix things up a bit. Variety is not only the spice of life but it's also one of the key principles of art and design!
We can add variety in many ways, the first of which is color. I've already mentioned blocking out shapes and shadows to start your abstract flower painting, so the next step is to add some variation in your hues by changing the tone or the tint of your paint color. You can also vary the weight of your paint strokes and lines! I think it's so important to use several different paint brush sizes to allow for a more dynamic contrast with your strokes and different textures. Larger brushes are perfect for blocking out your shapes while medium brushes are better for adding highlights. Varying the weight of your lines will add depth and character to your art while varying the shape (2D elements) and form (3D elements) will add movement.
Use LOTS of paint.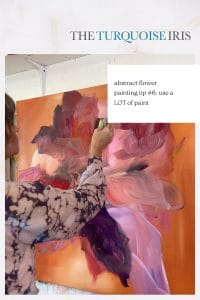 One mistake that a lot of beginner and intermediate artists make is not using enough paint! I totally get it: paint is a finite resource that costs money! However, I bet that you'll find that most of your favorite art, whether or not it's an abstract flower painting, features lots of layers of paint. Why? Eye-catching paintings usually have rich colors, textures, and lots of layers to create depth. Don't be scared to use the paint! I mean it, really dip your brush into the paint and load those bristles up! A lack of paint will limit your layers and blending capability.
Go with the flow.
Art is always about experiencing the process rather than focusing on the product. Remind yourself to not get committed to a particular section of your painting. You'll want to offer yourself the flexibility to paint over anything on your canvas with the goal of pushing your artwork to the next level. Remember, those layers are crucial to creating a jaw-droppingly beautiful abstract floral painting.
Embrace mistakes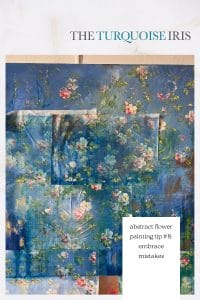 Mistakes happen! Sometimes we use the wrong color or stick our thumbs in wet paint… I was recently doing a LIVE paint tutorial for my creative business community, The Creative Connection, and trying to demonstrate applying a paint inlay by Debi Beard for Iron Orchid Designs. I had never done one before but really wanted to use it on a canvas, so I went for it… and totally messed it up. I did it ALL WRONG. The paint wasn't sticking to my canvas cleanly and, instead of the beautiful flowers featured in the inlay, I got bits and pieces of pink and green. I could have given up there, but I didn't. I kept trying and eventually figured out what I was doing wrong. All those "mistakes" on the canvas, combined with a little more paint, ended up creating a GORGEOUS layered effect that reminded me of an ancient mural from an old castle wall.
Don't hold back.
At its core, abstract art is the bold celebration of shape, color, and contrast to create something that CAN NOT be found in real life. If you hold yourself back or try to create a perfect flower then you're not allowing yourself the full joy of free, abstract, creative expression. True art comes from deep inside us, not from the things we could easily photograph.
Make it your own.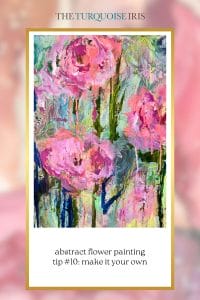 The most important part of the abstract flower painting process is YOU! You deserve to see where your creative instincts take you! Don't try to copy nature or even other artists; the canvas is your opportunity to create the kind of art that only you could paint. Trust your artistic intuition and lean into the colors, shapes, subjects, and elements of style that feel most natural and unique to you. 
Keep growing!
Did you love this tutorial? Join my Creative Connection coaching group to get new, step-by-step art tutorials every single month! We even have a dedicated space where you can receive personalized feedback on your work from me and other members of the group. Plus, you'll be able to take part in contests, challenges, and weekly training from experienced artists and experts to grow your creative business. When you join the Creative Connection, you're not only making a commitment to your creativity, you're also making powerful connections that will improve every aspect of your life.