I have been DYING for DIY Paint to release their new paint pigments and they are finally here and better than I ever could have imagined.
These hyper-pigmented Making Powders are perfect for all creative projects! Keep reading to learn more about them..
What are Paint Pigments?
The DIY Making Powder pigments are exactly what they sound like; powders that add pigment (AKA color) to paint! 
Sooo… why would you need pigments if you already have paint?
Well, just ask any artist who takes customs! Sometimes, finding the right paint color can be a real pain in the neck. Paint pigments give you major control over your color blends, creating the perfect paint sample every single time. 
As a furniture and canvas artist, I am personally always looking for ways to make my own work stand out. There is something about these pigments that reminds me of what it feels like to be a kid in a candy store! It seems like the possibilities are endless. I'm going to pretend that I'm a color alchemist in my color lab well I'm creating some new, fun colors to use on my furniture as well as in my paintings.
I'm also obsessed with display so I had to go get some cool glass jars and fill them to the top with these bright powders! I think it's amazing how something so little like pigment powder can inspire so many creative ideas.
How to Use Paint Pigments 
Any paint tool that gets me thinking outside the box is something that I like to keep on hand! Whenever I'm feeling uninspired, I like to try something completely new. The thing about paint pigments is that the opportunities for customization and creation are endless.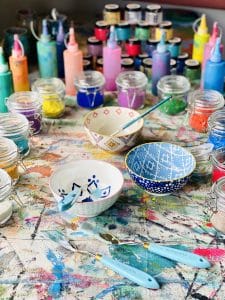 Mix into white paint in order to make new pastel colors 

Add to paint of the same color to intensify existing color

Mix with other paint colors to create a custom hue

Add a small amount of water and use like you would a water color

Press onto clear or white wax for a pop of color.

Sprinkle dry pigments onto your art surface and spray with water to diffuse. Be sure to seal it when you're done!

My Favorite Paint & Pigment Color Combinations
I've been having so much fun experimenting with these pigment powders ever since I got them in! Lately, I've been feeling especially inspired by tropical islands and the gorgeous, faded, wind-weathered look of all the brightly painted buildings. With that in mind, here are some of my favorite color recipes featuring DIY Paint and Making Powders.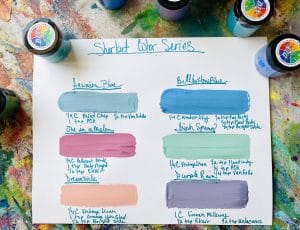 Hawaiian Blue
¼ cup Mint Chip paint
½ tsp Van Gogh Go
1 tsp PCH
One in a Melon
¼ cup Petticoat Pink paint
1 tsp Date Night
½ tsp Elixir
Dreamsicle 
¼ cup Vintage Linen paint
1 tsp Orange You Glad
½ tsp Bright Side
Bellbottom Blue
¼ cup Water Lily paint
½ tsp Pool Party
¼ tsp Plant Lady
¼ tsp Bright Side
Irish Spring
¼ cup Vintage Linen Paint
½ tsp Plant Lady
¼ tsp PCH
¼ tsp Van Gogh Go
Purple Rain
1 cup French Millinery
½ tsp Elixir
½ tsp Violaceous 
Want to learn more about mixing your own paint colors? 
What will YOU create?!