Have you ever attended an art retreat? What about a business retreat? What about a weeklong event that combines creativity and business into a unique experience designed to empower, encourage, and educate you???
This was the first time I'd ever met some of my team members! Here are Kamee and Michelle.
I didn't think so! 
Last week I hosted the second annual Empowering Creativity Retreat in Galveston, Texas (read about last year's retreat here!) for members of my private creative community, My Creative Connection. While members of this group are used to asking questions, getting answers, and having years of resources to look over and learn from, I know that what they really need is a place to connect and restore. An event they can form real-world relationships with members of our community that they may have spoken to online but never had a chance to meet in person. That's how the Empowering Creativity Retreat was born.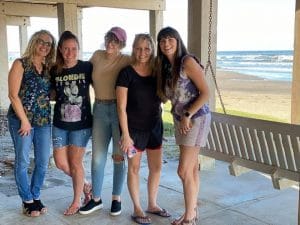 Here I am with some of our speakers and team members!
What is an art retreat?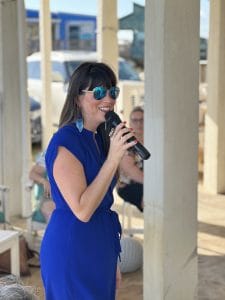 Art retreats look different for every host. Some focus on learning new, specific techniques, others are just for networking, and others are more about the art of running a whole business. This one was special. I consider my art retreat to be a little bit more of a holistic approach to retreats; we tried to cover a little bit of everything that a professional creative might encounter.
So, it went like this: each day of our retreat features guest speakers, question and answer sessions, and opportunities for our attendees to meet up, open up, and get to know each other in real, meaningful ways. We learned from experts like paint and video expert Debi Beard of DIY Paint (the best paint for furniture I have ever used) and DIY-A-GOGO, CEO and product genius Josi Siefker of Paint Pixie (the very same place that makes my brushes and palette knives!), my amazing friend Michelle Breedlove Sells of byLOVESELLS, landscape artist Llewellyn Krastev of Worn to Whimsy, and mindset/marketing guru Kamee Collins of Momtrovert Creative.
I can tell you about each of our speakers and the GEMS that they shared with our attendees about life, business, and the hard task of living…
I can tell you about the fun we had painting on canvas, some of us for the first time, or getting caught in a torrential downpour and tornado warning…
I can tell you how wonderful Galveston is, with its historic buildings, murals on every block, and the best dang food you'll find just about anywhere…
But first you need to know the what the whole thing is about!
What happens at an art retreat?
I can't speak for every creative retreat but I can speak about my own, so that's what I'll do! Here are some of the events and activities that took place over our five day retreat:
Meet and greets!
Because we had dozens of attendees, most of whom we only know from online spaces, it was important to me that we had an opportunity to get to know each other in the real world. Each of our attendees and speakers took the mic for a few moments on the first evening to share their story and tell everyone why they were there. Many of them wanted to learn from our awesome speakers but the majority of them shared a common thread: a desire for deeper, more meaningful relationships with one another. 
Swag Bags!
TONS of amazing creatives supplied gifts for our swag bags! We had the opportunity to feature lip balms, teas, DIY craft kits, paintings, cards, and more! Plus, each attendee received a workbook to record their daily experiences and a customized tote and mug.
Q&As!
Even though each of our speakers had a dedicated time slot during which they shared their insights and activities, I knew it was important for our attendees to have an unstructured time during which they could ask the questions that matter most to them. 
Expert Panels!
As I mentioned, I invited a variety of guest speakers to come teach my attendees about the subjects that matter most to US! We talked about life, love, creativity, business, mindset, marketing, and even specific art techniques! There's a little bit of something for everyone at a retreat, so make sure to look for the retreats that speak to YOU.
Team Bonding Events!
My favorite retreat activity is a little something we call FIRE BURNING!!! We take turns writing out the limiting beliefs that hold us back and then throw them right into a bonfire on the beach. While this might not be applicable to every retreat, it's something that my attendees have been talking about since our last one so I knew it was a hit. 
Art!!!
It wouldn't be an art retreat without a little art! This year we had fun with an acrylic canvas tutorial and TWO furniture painting demonstrations. I can't wait to see what we play with next year.
Okay, so what about the WHY?
Why every artist needs to attend an art retreat!
The creative process can be lonely and isolating. Artists often get stuck in that "ugly middle" part of creating where nothing, not their business nor their painting nor their life, seems like it will ever work out for the best. But artists, like most other living beings, THRIVE when they have a supportive community at their back.
I love my online community; it's a place where lifelong friendships have been made and important skills have been learned and businesses have been conceived, launched, and grown. But nothing beats the power of spending a few hours surrounded by other artists.
Have you ever been in a room full of creative people? There's magic in that air, you can see it in the way ideas and inspiration get tossed around like footballs. It's an experience that simply can't be captured any other way.
Art retreats are a place to go for exactly that sort of thing: a retreat from the day-to-day life of running a business and a turn toward community and creativity to help refresh and inspire you. 
Where to find art retreats.
Unfortunately, my art retreats are currently only available to members of My Creative Connection. Sign up for my mailing list today to be the first to know when we're welcoming new members.
If you're ready to learn from me like, yesterday, then I have a few more options for you. Please check my workshop page to see if I have any upcoming paint workshops or visit my tutorials and courses to try some new techniques.
And, finally, my membership group Creativity at Your Fingertips, is always accepting new members who are interested in exploring their creativity through the fine art of finger painting! This group encourages artists of all skill levels and styles to regain the JOY that is getting your hands in some good paint. Come paint with us! You'll get access to all new AND previous painting tutorials!