A few years ago I had the opportunity to go to Paris with some friends who are fellow artists. The trip was a life-changing whirlwind of art and adventure (you can see pictures in my November 2019 blog post) and the sights and experiences I took in over the course of that week still inspire me to this day. For example, one of my favorite corners of my studio is the space where I have a vintage art box that was given to me on the trip by my sweet friend Debi Beard of DIY Paint. She gave me this precious gift while we were outside of Monet's Garden! While in Paris, I also treated myself to a box of Rembrandt soft pastels. These are some of the most pigmented and highest quality pastels in the world! So, when I saw that a box of vintage Rembrandt pastels was for sale online, I just had to satisfy my curiosity. Could old art supplies hold up against new products? I decided to do a little art supply comparison while I unboxed my vintage art supplies!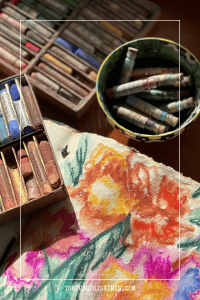 It was that gift from Debi that sparked my love of vintage art supplies! When the vintage pastels came in, I was so excited to tear into the box. I loved slowly unwrapping the plastic bubble wrap, smelling the pastels as I removed the packaging. Fortunately for me, the previous owner kept all of the vintage pastels color-coded so I was able to get a good look at the whole rainbow. Along with the vintage Rembrandt pastels, I also ordered some vintage Grumbacher art supplies.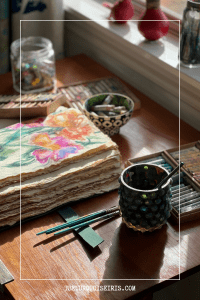 What I'm most interested in learning during this art supply comparison is how well the pigments hold up between the old art supplies and the new. I got some water to dilute the pigments to see how they compare! I decided to treat them sort of like watercolor and, using one of my hand-painted art journals, I went back and forth comparing all the different art supplies.
Art Supply Comparison Video
Watch the YouTube unboxing video I made! You can see the quality of the pigments while I use them.
(What do you think of my vlog format? Subscribe to my YouTube channel for more!)
Art Supply Comparison: Final Takeaways
There wasn't actually a whole lot to compare in this art supply comparison! As it turns out, high-quality products have a much longer shelf life than low-quality products. That means that beginners who are looking to grow their art supply collection can have confidence that the vintage, second-hand, and used art supplies from reputable brands will be just as good as the new version. All the pastels glided across my paper beautifully, and deposited an even amount of vibrant pigment. 
Takeaways For Beginners
I actually believe it's so important for beginner artists to use high quality materials right from the start. Low-quality materials will never provide high-quality results, which means beginners may experience a lot more frustration and disappointment. It makes way more sense to purchase good products secondhand so that a new artist can get comfortable with the materials they will continue to use in their future work.
Takeaways For Artists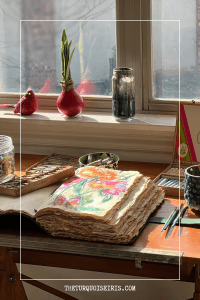 Already an artist and not sure whether to give vintage art supplies a shot? Speaking from experience, I found so much inspiration just imagining the hands that may have used these old pastels before they ever came to me. Plus, I felt a lot more freedom to experiment with the "old" products, because I knew I hadn't invested as much in them. It's definitely worth it to have a second-hand set of high quality materials so that I don't ever worry about "wasting" the "good" products that I got in Paris. 
Overall, I learned so much about the importance of good pigments by doing this art supply comparison! This is especially helpful now that I mix and pour my own watercolor paints by hand right here in my home studio! I know that the naturally-derived pigments that I use are high-quality, which means that they will last for a long time and always give me the results I'm looking for. 
Materials List
Want to recreate this little experiment in your own studio? Here is what I used:
Rembrand Pigments (new and vintage)

Water