Well, I did it! I convinced Matt to let me paint the master bedroom pink!
Let's ignore the fact that he insisted on calling it "light red" (and also that it was originally going to be a bright salmon color) and just be amazed by how gorgeous this blush (ahem – light red) and teal room turned out to be! Of course, the bedroom makeover didn't end there so allow me to take you on a tour of our bedroom to give you some ideas on how you can recreate this modern boho style in your own home.
Boho Bedroom Ideas
The modern boho bedroom has a few key elements that define the style. 
First, allow me to get real honest about the process… It was tough! The "light red" was a hard sell to begin with and I was actually a little sad that the pink wasn't as bright as I expected! First, Matt painted one wall. Then another. Then another. Then the rest! I finally realized how much I loved it and I'm glad we kept it!
Once the whole thing was painted, it was time to choose the ceiling color. We already knew we wanted teal but we weren't sure how deep to take it.
Scroll to the bottom for my shopping guide including paint colors and links to all my design choices!
Once the colors were chosen, I put Matt to work painting the ceiling!
It was a time consuming process but it was sooo worth it! Keep reading to see how the room comes together, plus my bedroom decor ideas and tips for recreating this fun "modern boho" bedroom design in your home!
Rich Complementary Colors
Old school boho style saw a lot of vivid blues and oranges being used. These days colors are a little darker, a little deeper, and a bit more organic. For example, in my bedroom makeover we went with…
Teal and pink!
Red and green are complementary colors, which is why pink and teal play so nicely together! They offer a rich contrast without being too bold or garish.
This photo shows the true color of those walls and I am totally in love with it! With the pops of turquoise and the dark ceiling, this blush paint plays more like a neutral than a pink. 
Speaking of that ceiling… painting it teal was my mom's idea! She thought it would help anchor the light femininity of the pink while still making a bold statement. I think the strip of white helps balance it and keeps it from being too heavy… what do you think?
Metallics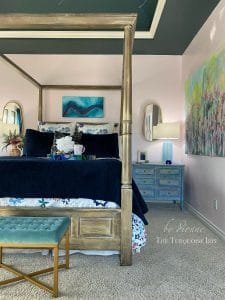 Want to take your boho from basic to bold and luxurious? Add some warm metallics to cool tones (like turquoise and blue) and cool metallics to warm tones (like peach and orange). You might recognize these nightstands but did you know that I also painted our bed?! See the shine of that metallic glimmer on the post? I love how it pulls in all the different golds around our room, like the stool and mirrors and drawer pulls. Mixing and matching metallics is a total boho move! 
In the same way that my multi-colored/multi-textured staging wall allows colors to shine even more than an plain white wall, this soft pink really makes this green and gold dresser POP!
Mixing Prints and Textures

You know the phrase "really pulls the room together"? That's how I feel about this canvas painting. It feels like it belongs in our bedroom, almost like the flowers are growing organically out of the wall rather than painted on a canvas! I love how the soft floral plays against the sumptuous velvet and bold gold pillows. Choose artwork that excites you and is complementary to the colors you choose for your walls!
Over in my sitting area, I also play with texture and pattern.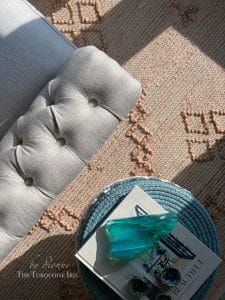 By keeping the fabrics all in the same color family of blue, neutral, and pink; I'm able to play with both pattern and texture in a way that's both modern and boho. Like in fashion, mixing "high" and "low" fabrics is a great way to update your boho style. Here I mix my luxe teal drapes with a breezy boho footrest to create an atmosphere that's both luxurious and relaxed.
Personal Touches
The key behind any design style?
Knowing how to make it your own! Adding meaningful touches — like artwork, books, photos, and mementos — is what takes any style from Pinterest to personal!

Snag This Style!
What do you think about my bedroom?
Did this makeover give you any ideas for a bedroom renovation of your own?