Recently I was treated to a film crew at my house to film a special segment with What Women Create for the BloomTV Network! It was such an incredible experience; beautiful and surreal. They were there for two whole days, at least ten hours each, and in that time I got to learn so much from the two magic-makers who showed up to record all the content. Here are seven tips for better video content that I learned over the weekend!
7 Tips for Better Video Content
Don't wear sparkly makeup.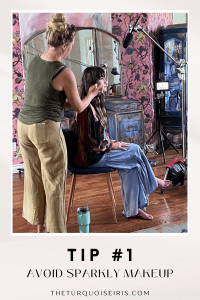 Uh, oops. I have been making video content for years and I always wear the same, slightly shimmery loose powder. Turns out that's a big no-go when it comes to balanced lighting! A matte finish is better for video content.
The easiest way to sync your audio: 👏
The team used multiple cameras for multiple angles, which means that switching back and forth between cuts could be tricky during editing! The team taught me to clap 👏 whenever we ended a clip or started something over. It's a super simple tip that saves a ton of time.
Clouds are great, actually.
When we went to record some footage of the dresses outside, the crew was excited to see that it was overcast! Cloudy, or "flat," lighting is best for recording outside because the lighting is more consistent, which means your camera will be able to catch gorgeous details without having to compensate for an ever-changing light source. 
Staging is more important than we realize.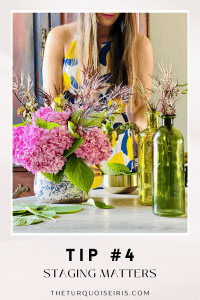 When the team was setting up a shot, they paid particular attention to the background. Too dark and it won't draw the viewer in, too messy and it will push the viewer away. A good background creates a scene for the video, anchoring the content for the viewers in a way that invites them to engage. Create a background full of depth by incorporating texture, color, and a variety of heights and visual weight.
Give yourself an old-school filter.
When the team wanted to create visual interest, they used old-school tricks! My favorite moment was when we pulled long grasses from the garden to hold in front of the lens for a hazy, warm filter! I think this is such an easy way to create depth and intrigue without having to be a professional.
When in doubt, roller skate.
Or, you know, just do whatever brings you joy! The point is that happiness is contagious and you really can't fake it. So if you're struggling to know what to film or you're stuck in a rut, or you really have no idea what your followers want to see… Just have fun with it! While we were filming, I got a chance to put on my roller skates and skate with a drone! It was the most fun I've had in ages and it ended up being my favorite part of the shoot.
You're probably overthinking it.
The key to all good video content is simple: good storytelling. If you're worried about which editing program to use or how to perfectly balance a frame, you're not paying attention to the reason your viewers are watching your content in the first place: you! There were actually a lot of shots I assumed the team would have wanted but, it turns out, I was definitely overthinking it. I'd planned out elaborate backdrops and complicated shots when, really, all they wanted to see was me just doing my thing. 
The Most Important Tip for Better Video Content

Be yourself. We are all at our best when we are comfortable. If you're not inherently comfortable in front of a camera, simply turn on a camera when you're doing something that makes you feel comfortable. I know that it doesn't feel natural to have a camera trained on you, even if you can justify why the content is important. So many of us have been raised to not call attention to ourselves, not to brag, not to stand out unless called to. But, to really connect with our audience, we have to be willing to embrace the opportunity that video content gives us. We have to be willing to put ourselves out there, our real, authentic selves, because that is when we find the perfect balance between comfort and connection. 
Want to know how the special feature turns out? Make sure you're on my mailing list or use my promo code (DWMONTH22) on BloomTVNetwork.com for a free month!!
Not sure what to do now that you're a video expert? Check out my blog post about repurposing your content!