I will never stop saying this: learning from other artists is the best way to grow your creative practice. If you want to be a better artist you MUST take time to learn new skills, find new inspiration, and get outside your comfort zone. One of my favorite (and free, if you've got a library card) growth hacks is reading! There are SO many amazing books out there that have truly changed my life! I thought I'd put together a list of books to read if you're an artist! 
Books to Read if You're an Artist
Is this a comprehensive list of every single book you should read about the art of creativity? Nope! This is just a list of books that I absolutely love! It's a little combination of creative resources and mindset boosters that serve to inspire me and help me grow.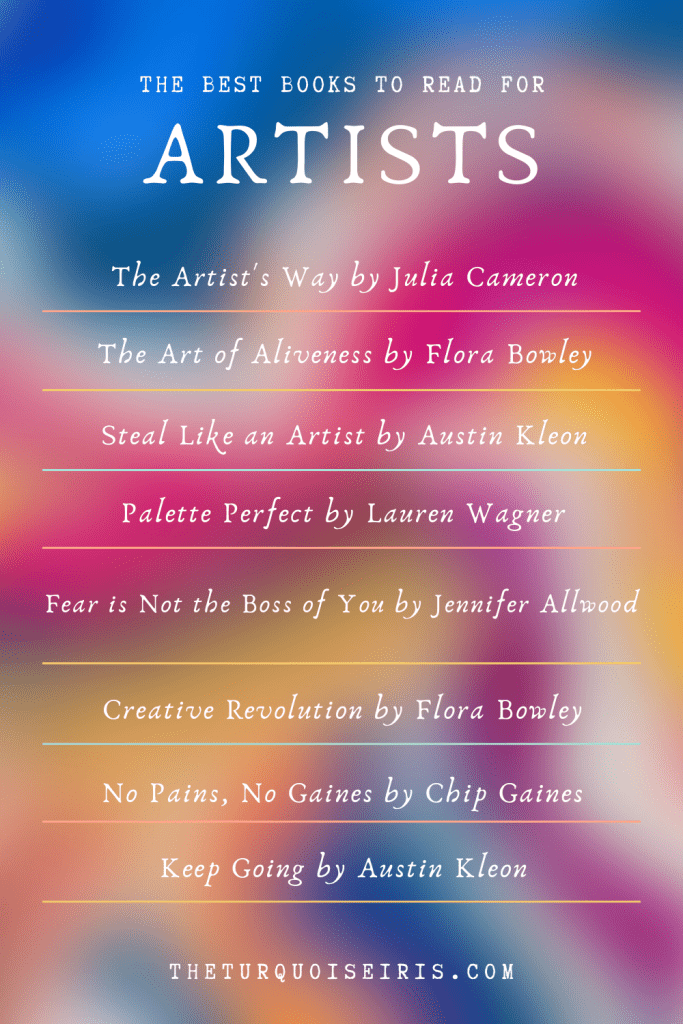 The Best Books For Artists
Please note: I am NOT affiliated in any way with these books or authors! They're just a handful of my favorite reads.
Of course, we all know that the hardest part isn't just finding the books to read, it's actually sitting down and reading them… That's where a little accountability can help!
Did you know that I have a book club? Over in my group, The Turquoise Iris's Creative Connection, we have the Better Self book club. Because it's a group for creative entrepreneurs, we enjoy sharing books like those on the list above to help us grow! We've already finished The Artist's Way and have just begun The Art of Aliveness by Flora Bowley. 
How to Start a Book Club 
Running a book club is new to me, so I did a lot of research before we began to make sure it was super valuable to all involved! Here are some of the key steps you can take to ensure success!
Choose the Right Books to Read
Make sure the book you're choosing is a good one that fits the theme (if you have one!) of your book club. The Better Self Book Club is all about reading books that make us better versions of ourselves! The best books to read are those that help you grow, which could be anything depending on your interests. The only thing that matters is everyone is willing to read it. I like to check reviews for things like "DNF" (did not finish) or other content warnings that might not be on the cover or in the book blurb on the back. 
Choose a Schedule
The BSBC is great because I host it live on video, which means any of our members can rewatch it and ask questions in the comments. But not everyone has that luxury! If your book club can't be hosted in an online group then it's important to choose a date and time so that everyone can stick with it!
Be Consistent
Keep meetings focused by having a consistent schedule. That looks different for every group! You might want to meet after everyone is finished with the book, or schedule a short meeting every few chapters. You can decide based on the book length or your members' availability.
Be Engaging
Book clubs can be wonderful… if people are participating. Otherwise, they can end up feeling a little bit like homework! Make sure you're prepared with a meeting agenda to keep the ball rolling. Some groups like to recap each chapter, others have specific questions they like to ask, and others enjoy using the book club discussion guides that so many books now include.
Questions to Ask Any Book Club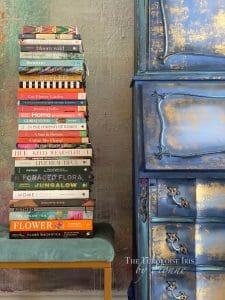 The best reason to have a book club isn't necessarily reading the book (though it's a good way to hold yourself accountable) but the discussions that come from it! I love hearing everyone's different perspectives on the same information. If you need some help encouraging discussion among your members, here are some great questions that can apply to any book:
What did you think about the book before reading? 

How did your impressions of the book change after reading?

What was your favorite line from the book?

What would you change about the book?

If you could ask the author one question what would it be?

What did you like about the book? What do you dislike about the book?

Did any part of the book surprise you?

Would you recommend this book? To whom? Why?

How can you apply parts of the book to your life? 

What will you take with you from this book? What will you leave behind?

Will you read more books from this author?

How can this book inspire you to take action in your own life?

Do you think the title of this book is enticing or off-putting?

Why do you think the author…

In which format (paper copy, e-book, audiobook, etc.) did you read the book? How did that impact your experience of it?

Would you read this book again?
I LOVE to read! Books a great way to learn new skills, escape to new worlds, or just find inspiration and they also make beautiful decor! Even if you're more of an e-book reader, I highly suggest investing in a handful of really special coffee table and reference books. Not only will they serve to inspire your creativity, but they will look fabulous when staging your furniture or artwork.
Some of my favorite genres include personal development, gardening and horticulture, interior design and decorating, travel, fashion, portraits, memoirs, and biographies! I love learning about new people and places because they always inspire me to create!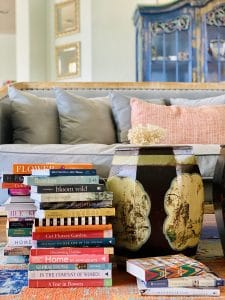 Want to join the Better Self Book Club?
Become a member of my Creative Connection! In addition to the book club, you'll also get access to YEARS of painting tutorials, mindset talks, guest expert interviews, painting demonstrations, how-to instructionals, and exclusive retreat opportunities.