The first step to building a successful art business is to take yourself, and your art, seriously. So many artists hold onto that hobby mindset long after they've started making an income from their art. Every business requires an investment of time, effort, and money but knowing where to invest is half the battle. 
Must-Haves for a Successful Art Business 
Build A Successful Art Business with… the latest trends
The biggest key to success as an artist is the ability to keep up with the latest art and design trends. I started out as a furniture painter in 2010 and, since then, I have seen dozens of trends come and go. While it's possible to find a specific niche and stick with it, it's far easier (and more lucrative!) to learn how to interpret the latest trends and execute them in your own unique style.
One of my favorite tools to use is Pinterest (follow me!). Artists can find tons of creative inspiration just from searching for pins but it's really their free business tools that set them apart. Because Pinterest is  a search engine, they encourage creators to follow the latest trends by providing all the analytics on what users are searching for every single week.
Get all my Pinterest tips for creatives in this blog post.
Build A Successful Art Business with… advanced art techniques
One of the keys to standing out as an artist is to develop a signature style with unique and advanced techniques that set you apart from the crowd. So where do successful creatives learn new techniques?
Most artists learn new skills from tutorials, courses, and workshops because learning directly from other artists is often the easiest (and most fun!) way to learn new skills. Personally, I love learning from the artists that I admire because I find it so inspiring for my own art practice. 
As artists, we get to  grow our business by becoming better at the things we love to do! How lucky are we? Sure, we could continue practicing the same techniques over and over but not only do we deserve to grow as artists, our audience deserves to see that growth.
Build A Successful Art Business with… personalized recommendations
One thing that's true of every business is that it often takes a third party to give us a little clarity. When I'm in the middle of it all — the creating, the selling, the marketing, the planning — it can be hard for me to figure out what comes next. While that person might be a friend, colleague, or peer; you're more likely to get an effective plan of attack from a professional like a creative coach, business strategist, or marketing manager. The key is finding an objective expert who understands your business, your industry, and your goals. 
A personalized strategy can kick your business into high gear! While coaching and business plans can be an investment, they are an invaluable tool that often make the biggest difference between just selling art versus maintaining a successful art business. Every coach is different, but the best coaches are the ones who take into account not just what works for a business but what works for you. 
Your business will grow so much faster with a personalized plan than it ever could trying to do it all by yourself.
Learn more about what a creative coach can do for your business.
Build A Successful Art Business with… expert advice
The hardest lesson I've learned about selling my art is that a successful art business is sooooo much more than painting and listing my art online. There is so much to consider; mindset, branding, marketing, products, offers, affiliates, hiring a team, content planning, automation, accounting… It's simply not possible to know it all!
The hard part, of course, is gaining access to all those experts! While it may not always possible (or financially feasible) to book calls, take courses, or hire experts for all of your business needs, there are still ways to learn from experts.
Expert Resources
Podcasts –

Podcasts are fantastic because they provide hours of educational content completely for free! (Listen to my podcast,

Paint Talks

, to hear inspiring and informative episodes with dozens of successful artists like you.)
YouTube –

There is a video for

everything

on YouTube! It's such a fantastic place for artists to learn specific skills, from editing their photos to launching a website, without leaving the house… or even the couch.
Books –

Okay, so it's not the same as learning

directly

from an expert but it's close enough! Some of the best tips I've gotten have been from books I picked up online or (even better) from the library.
Build A Successful Art Business with… art challenges!
Raise your hand if you've ever gotten hit with a creative block!!! Don't worry, it happens to all of us from time to time. I've tried just about everything to beat the block (read my tips here) but the best thing I've done is challenge myself to create something new. In the past year I have tried painting portraits (here's one of my role model, Iris Apfel!), launched a finger painting group (Creativity At Your Fingertips), and practiced some new furniture painting techniques.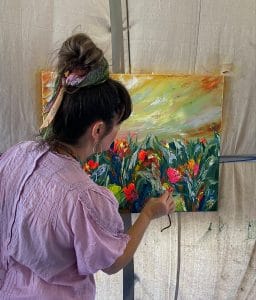 I encourage all of my coaching clients to push themselves out of their comfort zone by trying styles and mediums that they aren't familiar with! If you're a canvas artist, try painting on furniture. If you've only ever used brushes, try some palette knife paintings. If you've been painting landscapes for the past decade, why don't you try an abstract for fun? Stretching those creative muscles is the best way to grow them.
Build A Successful Art Business with… a supportive community!
What if I told you that — instead of spending thousands on coaches and tutorials and workshops and expert consultations — you could find everything you need to build a successful art business all in one place…  for less than $40 per month?! 
My Creative Connection is a professional development network created specifically for artists and creative business owners to accelerate their growth, make more sales, and learn new skills!
Here's what membership in this amazing community includes:
Monthly furniture and art tutorials

Access to the Tutorial & Resource Library — hundreds of trainings are recorded and saved in the group so that even new members can access them on DAY ONE

Troubleshooting for all your art and business related problems

Weekly Q&A coaching calls

Paint Challenges with prizes like: free coaching calls, original works of art, paint supplies, and more!

Interviews and demonstrations from successful artists and business owners

Training sessions from experts in business, marketing, art, social media, mindset, sales, and branding

Personalized art and business advice from me!

Priority access to events, spotlights, and features in my social media feed, magazine, live videos, and more

Exclusive Offer: my private group coaching program and annual retreats only available to group members!
Most importantly, a creative community gives you the support, encouragement, and inspiration that only a group of empowered artists can share! My community is filled with some of the most amazing, unforgettable artists you'll ever meet and I have seen friendships formed that are sure to last a lifetime.
Learn more about The Creative Connection!
The biggest trick to building a successful business? Realizing that you don't have to do it all alone!
Want more tips for growing your business? Find them here!