As a creative, I live to experiment and go BIG! Getting out of my comfort zone and creating something new is what helps me grow as an artist, but there was a time when I felt sort of bad that my work couldn't be condensed down to a handful of adjectives… As it turns out, I wasn't thinking big enough! When I stumbled across the phrase "colorful maximalism," I knew that it was meant for me.
Colorful Maximalism Design Elements
There is an art to colorful maximalism and it is so much more than just having MORE of everything! Colorful maximalism means layer upon layer of color (of course!), pattern, texture, and accents. To achieve a style that looks good, it's important to keep a few elements in mind:
The key to success here is achieving a visual balance between all of those elements! Here's what that looks like:
Palette
I love color, and a lot of it, but it's important to find a focus color that ties everything together. The same goes for a room! Try to choose an anchor color and ensure that all of the elements you add either include or complement that color.
Scale
Scale applies to the size of your items as well as the scale of your patterns! If you're using a smaller scale in one part of your design, go big in another space.
Depth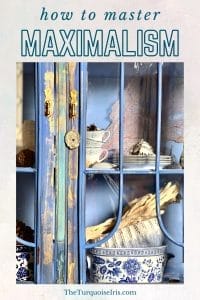 Depth comes from a solid understanding of layers… And when I say "layers," I mean LAYERS! Think up and down, forward and back, inside and out.
Colorful Maximalism Furniture & Decor
The principles that I use to decorate a room are the same principles I use when painting a piece of furniture. I start with choosing a color palette (I have some tips for choosing a color palette in another blog post), a motif, and a finish.
Sometimes I like to go towards a bright and bold abstract with lots of layers, colors, metallics, and texture. One of my most popular YouTube videos teaches you how to do just that! 
Other times I will choose a soft, super-blended background so that I can highlight a particular design like flowers, leaves, or a pattern.
I've also been known to paint an impressionist-inspired landscape on furniture from time to time, too! 

Maybe this is just the furniture artist in me talking, but I really think that good furniture can make a room! The easiest way to begin your maximalist journey is with a statement piece of furniture that you can use to determine your color palette, motifs, and more. 
Colorful Maximalism Styling Tips
It can feel a little scary to dive head-first into colorful maximalism, but it's important to trust your instincts! Always keep in mind that one important word: balance. The goal should be to move your eyes through the space, telling a story with each piece you add. If you find things getting overwhelmed or lost, that's your sign that it is time to take a step back, assess your space, and try to find a way to use scale and size to create focal points within each layer of detail.
When I'm styling a piece of furniture, I like to go through a mental checklist to make sure I've tried to include:
A color story

Pattern

Natural elements

Something metallic or sparkly

Texture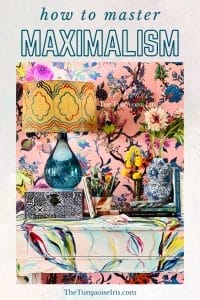 I also consider how to make the piece look like it fits seamlessly into its environment by adding household items like books, flowers, and even food!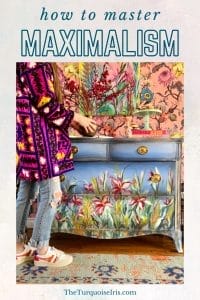 I am so glad that colorful maximalism is getting the recognition that it deserves! For so long, using color and whimsy in decor was often seen as childish or extravagant. But, with a few boho elements and a story to tell, maximalist decor can be a chic way to showcase all of the things you love. 
And, when in doubt… Think BIGGER!