The older I get, the more I realize that I don't want big, flashy presents from brand name or big box stores. I'm drawn, instead, to the creative, handmade, and DIY Christmas gifts that are truly one-of-a-kind! As a creative business coach, I know that this is the time of year to start all those handmade gifts if we want them finished by Christmas, so I put together a list of my favorite suggestions to help you get started. 
Ideas for DIY Christmas Gifts
Whether you're looking to create personalized homemade gifts for your loved ones or unique handmade gifts to sell, this list will give you a lot of ideas!
Personalized Perfection
Hand-Painted Denim Jacket
Find a secondhand denim jacket and give it a vibrant, expressive makeover with your artistic touch. Need some tips? I've got you covered! Check out my DIY denim jacket makeover blog post. 

Painted Portraits
I've yet to meet someone who didn't LOVE getting a family portrait as a gift. If you're looking to make items you can sell, consider painting several breeds of dogs, cats, and even chickens! Pet parents rarely pass up an opportunity to show off their furry (or feathered!) friends.
Hand-Decorated Notebooks
Buy plain notebooks or sketchbooks and create custom covers featuring your artistic flair! Ask any entrepreneur, teacher, PTA mom, or writer that you know… They will all agree that there is NO SUCH THING as too many notebooks! Make them extra-special with personal details like monograms, initials, or even a favorite flower.
Fun AND Functional
Personalized Calendars
Design a custom calendar with your artwork for each month and print a few at your local print shop. If you're planning on selling these calendars, consider supporting an art printer like my friend and curator for The Turquoise Iris Journal, Renee Smith of RDV Prints!
Canvas Tote Bags
More and more businesses are requiring reusable shopping totes these days, so why not create some functional art? Jazz up plain canvas tote bags with colorful designs, abstract art, or personalized phrases for a thoughtful, eco-friendly gift option. Fill them with the recipient's favorite snacks for an extra-special treat!
Ceramic Tiles
Hand-painted ceramic tiles can be such a versatile gift option! You can cover the back with cork for creative coasters or add a super strong magnet for one-of-a-kind fridge decor. 
Painted Wine Bottles
Is there a wine lover in your life? Treat them to a hand-painted edition of their favorite bottle!!! This makes for a great vase when the contents are emptied. 
Home Improvements
Hand-Painted Throw Pillow Covers
One of the things I love the most about the new Painterly line from DIY Paint is how vividly the colors pop even when used on fabric! I've been painting wedding dresses using these paints and I am AMAZED at how soft the fabric is even after several coats of paint. Get the new colors in my shop!
Upcycled Plant Pots
Who doesn't love a little greenery in their home? Find old ceramic or clay plant pots at thrift stores, then paint and decorate them with fun patterns or plant-related art. Pair them with a small plant or even seeds for a lovely gift.
Picture Frames
Transform plain photo frames with a fresh coat of paint and decorative embellishments. You can even insert a favorite photo or family recipe for an extra-sentimental gift!
Holiday Flair
Custom Ornaments
Create unique Christmas tree ornaments by painting on plain glass or wooden ornaments. You can add personalized designs, names, or even small landscapes! If you're looking to sell some ornaments, consider adding personalized touches like the year, the location, or even offering customization options in the form of family names by using a paint pen!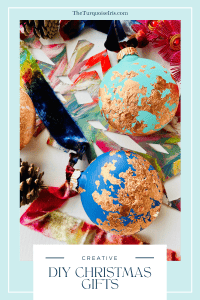 Hand-Painted Wooden Signs
Find reclaimed wood or old wooden planks to turn into rustic signs and paint inspirational quotes or festive messages on them for simple but stunning decor.
Decorative Holiday Trays
Hand-painted wooden trays make the PERFECT place setting for Santa's milk and cookies! 
Personalizing Your DIY Christmas Gifts
The difference between a nice handmade gift and memorable DIY Christmas gifts comes down to the details. Adding that extra bit of personalization to a present really shows the recipient how well you know them… and how much you care about them! Pay attention to the things they are always talking about or posting about online; their pets, favorite films, the trip they took last summer, the book they're always recommending… Those are the kinds of details you can use to make your gift really stand out! 
Not
Quite
DIY Gift Ideas
Looking for a totally unique gift but lacking the time to make it yourself? Check out my shop! You'll find hand-painted art journals, dresses, hats, original canvas art, and more thoughtful gifts that will show your loved ones just how special you think they are. 
Would you love to make art for a living?
Learn how to expand your creative business with my mentorship group, the Creative Connection!