I definitely see my outfits as an extension of my art and, as more high end fashion designers turn to art for their inspiration, I want to share some ways that artists can create their own stunning DIY clothes! 
Also, did you know that some of the first pieces I ever created as an artist began with upcycling clothes into DIY canvas art?! Then, a few years ago, I went in the other direction and started using clothes as my canvas by painting skirts, hats, and dresses. When we open our creative practice beyond just paint and canvas, we allow our creativity the freedom to truly play! By creating DIY artistic clothes, we also get the added benefit of a truly unique and eye-catching wardrobe! 
How to Make DIY Clothes
I've always had a love of fashion, even before I became an artist! My first "grown up" job was working in a very high end boutique, pulling looks for clients based on their style, needs, and interests. I also enjoyed making my own clothes! I'd haul out the sewing machine and take old fabric or thrifted clothing and turn it into something I was excited to wear. But you don't have to be a fashion maven or even a seamstress in order to make your own DIY clothes! In fact, you don't even need a pattern! As a creative, all you need is your brilliant imagination and a few artistic supplies. 
Supplies for DIY Clothes
These supplies will vary depending on your skills, interests, hobbies, and what is available to you… but the good news is that the options are endless! If you can imagine it, you can find a way to create it. Here are some creative hobbies and tools you can use to DIY your clothes and turn them into wearable art:
Paint (and brushes, of course!) 

Embroidery 

Crochet

Upcycled fabrics

Quilts and quilting techniques

Lace

Beading

Needle felting

Fabric flowers

Stained glass

Paper and origami

Vintage pins and buttons

Wood and/or leather burning tools

Recycled materials

Rope and knot tying

Wire, chain, and metal work
Are those creative gears already turning in your brain?!
Ideas for DIY Clothes
I find myself drawn more and more to clothes that are upcycled, DIY, or just plain one-of-a-kind… And I'm not alone! Searches for "painted denim jackets" and "DIY clothes" have been increasing month after month, probably because fashion designers have already revisited most of the trends from previous decades. Fortunately, this is where artists like us come in! We are no strangers to pushing the boundaries of creativity by stepping outside the box and trying new things.
DIY clothes can go far beyond learning how to let out a seam or sew a hem. In fact, I like to think of it more as creating "wearable art."  I think, "What if I look at this as a piece of art instead of a piece of clothing?" Then, I allow myself to embrace the creative process and see where it will take me. 
Keep reading to learn about some of my favorite ways to DIY clothes.
DIY Painted Clothes
Firstly, I have to say I know that this one is probably obvious… but I LOVE painted clothes! I've painted skirts, dresses, and hats but I've also seen painted boots and shoes that I ABSOLUTELY adore! This is also the easiest way to start with DIY clothes because it's such a simple way to get started and only requires supplies you probably already have.
Redesigned Apparel
Also, you can keep things simple with a pair of scissors or break out your sewing machine for a totally one-of-a-kind redesign! The techniques and designs are up to you, but I personally love seeing old styles transformed into modern silhouettes by adding or removing sleeves, ruffles, and panels of fabric. One of my favorite trends is when the back panel of a shirt or blouse is removed and replaced with new fabric in a contrasting color, pattern, or texture.
Patchwork DIY Clothes
The design aesthetic I'm seeing all over the runways lately is patchwork! This simple update takes scraps of mix-and-match fabric (or canvas paintings if you're feeling extra colorful) and lays them over each other to create unique textiles. If you're not handy with a sewing machine, consider using fabric glue. Artist Lori Siebert created an amazing patchwork jacket for her feature in Volume 10 of The Turquoise Iris Journal! In fact, you could even take scraps of lots of old clothes and piece them together to create something new!
Needlepoint 
Embroidery is a simple and super affordable way to customize your clothes! From patching holes to adding uniquely personalized details, embroidery is an easy way to elevate any look. I personally love seeing details added to cuffs and collars! You could take a felt hat, like a beret, and add a fun floral pattern or add a line of leaves to your favorite sweater.
Knit & Crochet
I absolutely LOVE seeing how knitting and crochet can be used to upcycle old clothes! I've seen some truly amazing crochet sleeves added to old jackets, shirts, and vests. Recently, big designers have even attached hand-painted canvas pieces to crocheted dresses! I also love the idea of using knits and crochet to mend things, change a silhouette, or add a little extra length to a hem.
Quilted Accents
Furthermore, if you are handy with a sewing machine or you happen to be a quilter, one trend that's been big lately is adding DIY quilted accents to clothes! I've seen real quilts turned into jackets and boring blazers turned into works of art by adding quilted designs. This is an easy way to extend the life of old textiles.
Vintage Additions for DIY Clothes 
I have a truly wonderful friend who has been sending me vintage pins from her collection and I have LOVED adding them as special details to my hand-painted hats! If you have a vintage collection of your own, like scarves, pins, or buttons, consider using them to personalize your clothing. Maybe you could group flower pins together to form a bouquet on the back of your jacket or use lines of buttons to add detail to your hems.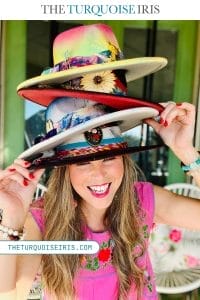 Turn Upcycled Materials Into DIY Clothes
The absolute BEST kind of DIY clothes, in my opinion, is the kind made from upcycled materials. Did you know that nearly 85% of textiles end up in landfills? That's a huge amount of material that could have been used to create elegant, personalized, one-of-a-kind clothing! I've seen old sheets turned into dresses, skirts, shirts, and even suits! Tear old, stained tee shirts into small strips and weave them together or turn them into fringe. Use old woven blankets to create new cardigans. The possibilities are endless!
Don't forget accessories!
Maybe those old clothes of yours don't have quite enough life left in them to create an entire new garment, but perhaps you could use some of your favorite scraps to create new accessories! Thread strips of silk or charmeuse through chunky chains for a show-stopping necklace or wrap a bangle with some crushed velvet for a beautiful new bracelet.
Why you should DIY your clothes…
There are sooo many reasons why you should DIY your clothes! It's a great way to save money, learn new skills, and develop a personal style that's completely unique to you. Most importantly, it allows you to flex your creative muscles and experience the full spectrum of art. Besides, who doesn't love to play "dress up" from time to time?!
Are you a fashion and art lover like me? Join my mailing list for early access to new apparel on my site and behind-the-scenes peeks at some of my top-secret upcoming projects!