There are soooo many ways to interpret the word "bohemian" when it comes to decor, but the concept itself boils down to one simple belief: a person's home should include beautiful things that they have collected over their lifetime. It's a highly personal decor style that usually leads to an eclectic, but cohesive, home. Because it's so personalized, there's always a sense of ease about it and nothing feels forced or staged. That sense of ease, that freedom, is a feeling I try to capture in my paintings. I've put together a list of inspiring art, tutorials, and blogs to help you learn how to paint easy boho wall art for your home! 
Some people prefer a neutral bohemian palette but I am a color maximalist, so most of the boho wall art I paint is bright and colorful. It's okay to choose the colors that bring us the most joy because that's what this style is all about!
It's important to note that all of my tutorials rely on three key elements: good brushes, DIY Paint, and lots of water. 
Good brushes.

I see

so many

new artists begin with a cheap pack of brushes. I understand why because I did the same thing! I didn't think I'd be good enough to

deserve

good brushes and I didn't know if I'd want to paint long-term, anyway. While good brushes didn't make me a better artist, they do make painting easier! High quality brushes (like my line from Paint Pixie) have soft, dense bristles that won't leave streaks or stray bristles in your work.

DIY Paint.

While you may achieve a similar effect with other paints, I prefer clay-based

DIY Paint

because it is super-duper pigmented, made with only 9 ingredients (+lots of love!), and it reactivates with water so I never have to worry about drying out. 

Water.

I don't remember the last time that I painted something without adding water to achieve a perfect blend or a unique finish. My Water Girl continuous spray bottle adds a super-fine mist, allowing the pigment to

mix itself

right on my canvas or, if I really want something unique, I add a

lot

of water to get some gorgeous drips and drops.
Easy Boho Wall Art
I hope that these paintings inspire you! Each one features different techniques that you can use to create easy boho wall art that's uniquely you. 
Large Abstract Wall Art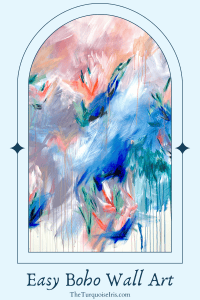 I love how scalable this abstract canvas tutorial is! You can use these techniques on any size canvas for an impactful abstract.
Floral Paintings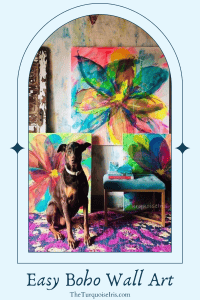 My absolute favorite tutorial is this piece, the Rise canvas tutorial! I was totally in love with watercolors before I ever started mixing, pouring, and selling my own. This large canvas painting is perfect for beginners because it's fast, easy, and uses very little paint! 
This super-simple technique will help you paint wispy flowers for a dynamic canvas. I love using this style to create a painting that becomes a focal point above a fireplace or in the dining room.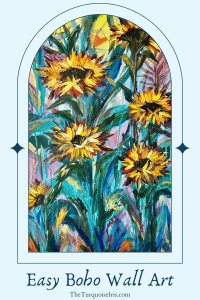 Take a page out of Van Gogh's sketchbook with an eye-catching sunflower painting! I think the sunflower is just about the happiest flower ever, which makes it a perfect subject for some easy boho wall art. 
Textured Wall Art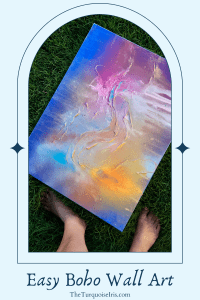 In my opinion, texture is an often-overlooked but essential design element! Add some easy depth to your boho wall art with some spackle or DIY Paint Frosting. This tutorial shows you how I first created the texture and then covered it with paint, including some gorgeous metallic details, for a unique boho finish.
I can't wait to see how these ideas inspire you to create art of your own! Please tag me @theturquoiseiris on social media so that I know 
Looking for more canvas painting ideas? Be sure to subscribe to The Turquoise Iris Journal! Every volume features unique creative exercise, tutorials, stories, and more.