Lately, I've spent a lot of time thinking about the legacies that we leave behind. I know that I want to be remembered for the community I have built and the connections I have formed with others. But, more importantly, I want to pass down the memories I have with my children. I know that one day I will be gone and they will look for something that they can turn to in order to feel my presence, because that's what I did after losing my father. As I was hand-painting my latest batch of art journals, I realized that they could have an even bigger purpose: a family heirloom journal.
What is a Family Heirloom Journal?
As the years pass, memories can fade and become forgotten. Keeping a family heirloom journal is a great way to preserve and pass down important memories from generation to generation.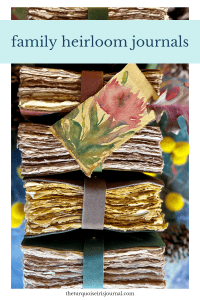 Similar to the commonplace books of old, family heirloom journals can include everything from newspaper clippings to hand-copied poetry, lyrics, recipes and more.
Why Family Heirloom Journals are Important
A family heirloom journal can contain anything that is important to your family; memories, stories, and details that could otherwise be lost to time. They serve as a time capsule, capturing important moments in your family's history. Family heirloom journals can also help strengthen family ties. They provide a way for family members to connect with each other by sharing memories and experiences. By reading through them, future family members can gain a greater understanding of their own family history and culture.
What Families Should Write Inside Their Heirloom Journals
The best thing about a collaborative project like this is that an heirloom journal can include anything you want it to! 
Important Life Events 
This might seem obvious, but it's nice to have a record of the important events in a person's life, especially if the information includes their perspective! Keep track of important life events in your family's history with a simple record. 
Family Stories 
You know those moments when the family breaks into a belly laugh until tears are running down your faces? Or the way all the kids run around squealing during family barbecues? Or the beautiful toast that your cousin gave at her sister's wedding? Those are the kinds of things that future generations will want to hear about. When I think about the members of my family that have passed on, I think about how I wish they could tell me those familiar old stories just one more time. 
Family Recipes
Make sure future generations are able to recreate meaningful family meals by sharing your favorite recipes! I like to include notes with each recipe like who loves the meal the best and memorable occasions. 
Family Traditions
Don't let the traditions become lost to time! Keep track of the special magic that only your family can create by jotting down your favorite family traditions. Do you make pancakes for dinner after basketball games? Or maybe you exchange books on New Year's Eve? Keep the whimsy alive by sharing the details in your family journal.
Art
Don't limit yourself to just words! Doodle, draw, paint, and sketch inside your heirloom journal to save special memories. Future creatives will be excited to see that they get their artistic inspiration from an ancestor.
Different Perspectives
Invite other family members to make their own entries, from children to grandparents. It's a great way to watch the family grow while preserving a moment in time.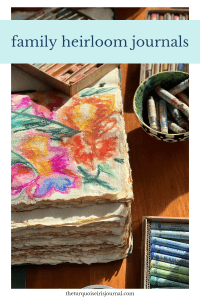 How to Choose a Family Heirloom Journal
While you could be fine using an affordable notebook from the craft store, most mass-produced items aren't created to stand the test of time. Look for a journal that uses high-quality materials, thick paper, and strong, glue-free binding so that it will last. I'm totally biased in favor of my art journals for this purpose, of course! They are well-constructed with leather covers, hand-sewn bindings, and thick pages that can hold ink and paint equally well. You can find them in my shop!
The best gifts we can give our family is our legacy; the memories, stories, and traditions that we hold dear. Start your family heirloom journal today!