As a creative coach I'm often approached by furniture and canvas artists who worry about a saturated market and want to stand out online. The answer is deceptively simple: Find what makes you unique. Yes, I know, that's a lot easier said than done but it's the best thing you can do for your art practice and your business. The trick is to identify your strengths, embrace your point of view, and find things that make you excited to paint. Determining your unique art style allows you to have creative freedom while firmly establishing your role in your chosen niche.
Finding Your Art Style
The first step to finding your unique style is to determine where you're coming from. Here are a few questions to get you started:
What medium do you use?

What subjects do you paint?

How do you use color?
Once you have a rough idea for the type of work you create, it's time to consider the message. 
What emotions, if any, do you want your work to evoke?

How would you describe your work?

How is your point of view evident in your art?
Finally, take time to consider what it is that makes you passionate about your art! 
What do you love to do?

What new ideas would you like to incorporate into your work?

What would you like to do more of in your art?
Once you have a clear vision for your work, it's time to put it into practice.
Establishing Your Style
I was so drawn to furniture as a medium because I'm inspired by old doors, weathered and patchy with years of paint and memories showing in chips and scrapes. My goal with nearly every piece of furniture I paint is to create an heirloom finish that makes the piece look both timeless and ancient. If I had it my way, people would spend hours gazing at my work, trying to decide which layer of paint might have come first!
Another thing that I like to do is add water to my paint for a drippy, blended paint effect that really stands out in photos. 
 The key to establishing a unique style isn't painting the same thing all the time, it's finding ways to bring your unique talents, perspectives, and passions to every subject and medium you approach.
Inspiration
Not Imitation
I LOVE to find inspiration from other artists. I don't mean that I go out and copy their work! Instead, I like to look at the art my friends make and see just how well each piece reflects the artist I know and love. Observing how other artists bring their unique perspective to every new piece they create.
To give you some examples, I'm going to share work from a few of our featured artists of The Turquoise Iris Journal. Each artist has a unique perspective that comes across clearly in each piece of art that they create. These are the kinds of photos that make me stop scrolling and say, "Hey, I know who made that!"
Chloe Kempster
This stunner is by Chloe Kempster of Maisie's House! Her fine art background is evident in the way she adds gorgeous, vibrant botanicals to her furniture. Chloe was featured in the second issue of The Turquoise Iris Journal!
Brooke Petermann
Brooke Petermann is a collage artist who stands out for her bold graphics and unapologetically positive reminders! We featured Brooke in Issue 02!
Vikki Bentley
Whenever I see a bold, literary quote on a piece of furniture I know without a doubt that it belongs to the wonderful Vikki Bentley of Tatty to Natty, who we featured in the first issue of #IrisJournal.
Piper Bridwell
In Issue 02, the lovely Piper Bridwell gave us a tour of her studio! I can always identify Piper's work from the gorgeous and ethereal blending combined with rich colors and texture.
Llewllyn Krastev
There is NO ONE who can do a landscape on a piece of furniture better than Issue 01's featured artist (and the upcoming cover artist for Issue 04!!!) Llewellyn Krastev of Worn to Whimsy! 
Anissa Perry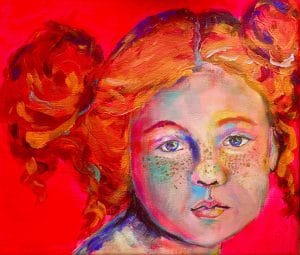 My friend Anissa, featured artist for Issue 03, stands out for her striking portraits and innovative use of color and highlights. 
Ildiko Horvath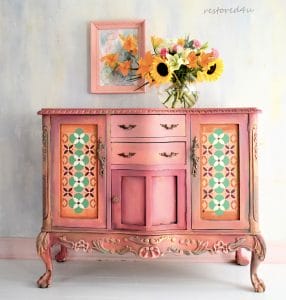 Say hello to Issue 03's Cover Artist, Ildiko Horvath of Restored4U! No one does a blend quite like Ildiko but it's her use of folk art pattern that always stops me in my tracks. 
Make Your Mark
Our styles grow and evolve the more we paint, so the best piece of advice that I can give you is to paint, paint, paint! No one wakes up one day knowing exactly what and how they want to create. It takes a willingness to create every single day, try new things, and make a mess…
Luckily, I think that making a mess is the best part!