Last month I challenged the members of my private group, The Turquoise Iris Creative Connection, to create a piece inspired by autumn colors— whatever that means to them. After seeing all their gorgeous pieces roll in I realized that I needed to participate in the challenge, too! 
Luckily, I had this gorgeous wardrobe just waiting for some fresh paint!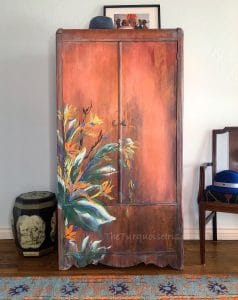 I decided to paint this one live, which I love to do. This piece was particularly special because I went into it with NO PLAN! Good thing I was painting it live, too, because so many viewers had incredible ideas for what I should hand paint on this piece. I got suggestions for things like motorcycles, falling leaves, a couple dancing (love that!), a tree, and even modern abstract art!
None of those ideas were really settling right with me but, luckily, while I was finishing the piece I was hit with some inspiration and decided to try something totally new. I grabbed my Paint Pixie 6-inch brush and used it to paint the huge leaves you see at the bottom of this piece! I've never used that brush in that way before and it turned out better than I could have hoped!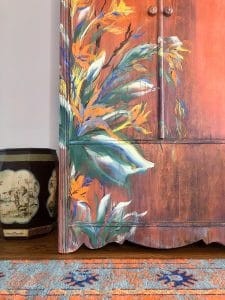 Of course I had to throw some Blue Iris in there! Not only is it a favorite, but blue is a complementary color to orange, so it was the perfect way to make these florals pop!
I ended the whole thing with a sheer copper finish to give it a lovely autumnal sheen.
I am so pleased with how this wardrobe turned out. I'm calling it the Full of Life Wardrobe! 
I was so lucky to have a lot of audience input on this piece and it was a joy to try a few new things! 
Color Recipe: 
As always, these colors are all by DIY Paint:
Cowgirl Coral

Cherry Picked

Marquee Red

Firestarter

Liquid Sunshine

Copper

Monet's Garden

Mint Chip

Fancy Farm Girl

Layered Chocolate

Blue Iris

Water Lily

Clear Wax

Bohemian Blue
If you'd like to see the whole process, you can check it out on YouTube or Facebook!
One of the best things we can do as an artist is to challenge ourselves to try new things; new techniques, new colors, and new styles. Check back soon for my next color recipe, Monet's Watercolor Dresser, I really challenged myself with that one!