These days, it seems like the only way I can find time to paint is by making time to paint! Is there a single artist out there who feels like they actually get enough time to make all the art they want?! More often than not life gets in the way, so I thought I'd put together a guide for those of us who need to scratch that creative itch without investing 20 hours into a piece of furniture.
Furniture Flips You Can Do In a Weekend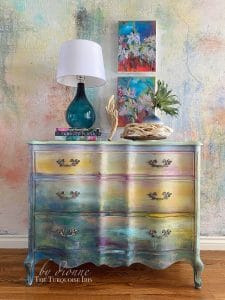 Whether you're a total newbie or just someone who'd like to actually finish a project for once, here are all my tips for flipping a piece of furniture in 48 hours.
Materials
To maximize the time you spend painting, I recommend having all your supplies ready to go. Some people use carts from the craft store while others are lucky enough to have a studio. Whatever your art space looks like, set yourself up for success by making sure you have everything you need within reach.
Dropcloth 

Spray bottle (if you plan on blending clay-based paint)

Wax or clear coat

Tape

Sandpaper

Hardware and tools (if you plan on changing)
Choosing the Right Pieces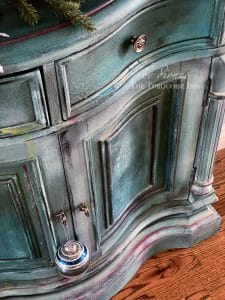 Size
If time is of the essence, I suggest sticking with a smaller, three-drawer dresser or night stand. I'd recommend nothing over 30 inches if you want to be able to complete the entire piece.
Quality
If you're limited to a weekend, it's best to stick with a piece that doesn't have any obvious structural damage. Fixing cracks in wood requires Bondo and some clamps, which can be done a few days prior to painting if you really love a piece. If you do have a piece you're concerned about, I recommend using Salvation Solution wood stain blocker.
Finish
While the 1970s gave us a lot of great hair and fashion trends, it wasn't especially kind to furniture and many pieces from that era often feature thiiiiick layers of varnish. Removing that varnish to get a good coat of paint takes chemicals, sandpaper, and a whole lot of patience. I tend to avoid pieces with a sticky, varnished finish because they require so much patience and muscle to fix.
Type of Material
While my favorite brand, DIY Paint, will work on almost every surface (trust me, I've tested it!)I prefer to work on high-quality wood pieces or (if I must) pressboard.
Get Some Inspiration
If you're painting a piece for your own home, it's best to find inspiration from the room it will be in! I always recommend at least one colorful piece in each room, as adding that pop of color can bring a room together and elevate it from basic to beautiful.
Plants
Nature is my NUMBER ONE source of inspiration because it works for every style. If you've got a neutral farmhouse style going on, you can match your statement furniture to one of your favorite plants! Try a dark, hunter green for your philodendrons. Sage and dusty rose work great for succulent lovers.
Things You Already Love
If the yellow tea kettle your grandmother gave you is your most-prized possession then, by all means, paint your piece yellow! Furniture, just like decor, should bring you joy when you look at it. 
Places
Think of the places that you feel most at peace. If it's the beach, choose soft blues or sand colors. If it's the garden, aim for pinks and reds! 
Choose Your Colors
Once you've decided on a color palette, it's important to make sure that you have those colors! For a small weekend project, I recommend sticking with 1-3 colors in the same family for easier blending. If you want something a little more bold, add metallic details or a pop of color with the hardware.
Painting Your Furniture
The night before you paint is a good time to get started on all the stuff that needs to happen before painting. Things like laying out your drop cloth, taking off hardware, taping off anything you don't want painted, and so on.
Once it's time to paint, go for it! Don't waste time doubting yourself. One of the best things you can do as an artist is to trust your process and give yourself time to make mistakes… because sometimes those "mistakes" turn out to be "happy little accidents." (Thanks for that one, Bob Ross!)
Finishing Your Piece
Once you've finished painting it's time to seal your piece.
If you truly want to finish it over the weekend, then I recommend using a clear top coat, like DIY's Big Top, to seal your piece. If it's going to be in a high-traffic area, consider doing two coats.
I looove the depth and dimension that a wax finish can add to a piece, but it can take up to 30 days for wax finishes to fully cure. If you're willing to wait that long, then go for it! Otherwise, a top coat will be your best friend.
What do you think? Will you be flipping a piece of furniture next weekend? If you do, be sure to tag @theturquoiseiris on social media so I can see what you make!