This year has been a busy one for the team here at The Turquoise Iris! In addition to hosting (and teaching at!) lots and lots of retreats, we also released the FIRST print issue of The Turquoise Iris Journal, I filmed a feature for the BloomTV Network and What Women Create. As amazing as all of those things are, they wouldn't be possible if I didn't make time every day to just create. There are a million reasons why I'm grateful for my private mentorship group, The Creative Connection, but a very selfish one is that it gives me an excuse to just paint. Every month I share a new canvas and furniture makeover tutorial with the group for us all to learn from! With that in mind, I thought I would share some of my favorite furniture makeovers from 2022!
Furniture Makeover Inspiration from 2022
There are three things I love: bright colors, bold florals, and all things boho!!! When I plan a furniture makeover, I ask myself three questions:
What is something I've never seen before?

What is something I've never done before?

What color combinations are exciting me right now?
That's how I continue to innovate, grow as an artist, and create a truly one-of-a-kind furniture makeover. 
Furniture Makeover Supplies
Here are the things I use for every furniture makeover, regardless of size or style:
I started the year with this bright armoire that I painted for the Winter 2022 issue of The Turquoise Iris Journal! To my delight, everyone seemed to love Velvet Honey as much as I do. 
Tahitian Dream was another piece I painted early in the year. I had so much fun with this furniture makeover because both the shape of the piece and the style of art were new to me! This piece is also now available for sale!
"Once Upon A Time" found its happily ever after back in February! As you can tell, I was still obsessed with the rainbow boho vibe.
I was all about the metallic accents for this spring piece! I love the way that they add both depth and highlights to the finish on this piece.
Spring has arrived! This secretary hutch was painted especially for the spring 2022 issue of The Turquoise Iris Journal and was an instant favorite. Does anything feel fresher than sunny lemons on a bright blue background?!
Do you follow me on Facebook? If you do, you've probably noticed that I've been dabbling with watercolor painting! Well, it all started with this spring furniture makeover where I used DIY Paint and pigments to create a watercolor effect on this gorgeous desk. 
While speaking at the SOAR conference I had the opportunity to teach a new furniture makeover technique to the attendees, so I went for this bright, textured look using DIY Paint Pigments! It received incredible feed back, so…

I recreated the technique on another piece of furniture later on! This is still one of my favorite finishes, so I think I'll revisit this style again in 2023.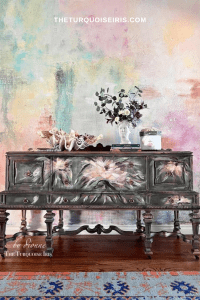 This moody buffet was the perfect tutorial for the autumn transition from August to September! Just a few weeks after this the color "sage green" started trending.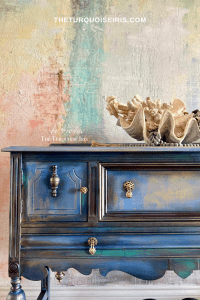 I brought us back to the basics in September with this blue and copper makeover! Sometimes it's good to strip things back a bit… it's often more difficult than running wild with color!
My latest piece, Queenstown Swing, was completed for our October furniture tutorial! I love the way this piece turned out… I think it's safe to say that I won't be shying away from flowers on furniture any time soon.
What do you think? What is your favorite furniture makeover so far? What would you like to see me try in 2023?