Every so often I'll get a group of new followers who have a lot of wonderful questions for me. They'll ask them in emails and comments and direct messages and I always do my best to help them, but I always wish I could give them more, you know? So I decided to start compiling a little guide of all the furniture painting tips I have for beginners in a series I'm calling #DIYFAQ! While I'm starting with furniture painting questions, eventually this series will expand to other questions, as well, about painting, art, business, creativity, mindset, and more. But for now, let's cover all the furniture painting for beginners!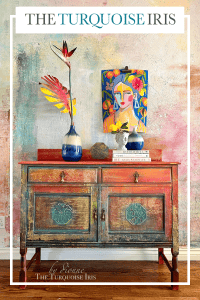 FAQ ABOUT FURNITURE PAINTING FOR BEGINNERS 
What is the best kind of paint for painting furniture?
I spent years looking for the perfect paint, so long that I gave up on the idea that my dream paint even existed. And then I found DIY Paint or, rather, they found me. When Debi Beard first asked me to try her paint, I really doubted that it was as good as she claimed it was. But she ignored my doubts and sent me some samples anyway. I was hooked from the FIRST TIME I used DIY Paint.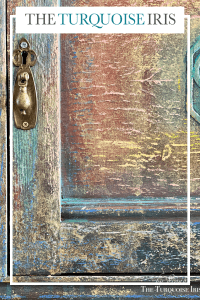 I think DIY Paint is the best to use when furniture painting for beginners and here's why:
Super blendable for a perfect finish every time

Extremely economical because, even if it dries out, it becomes reactivated with a little bit of water

Only 9 ingredients (water, clay, porcelain clay, chalk, alcohol, ester as a binder, cellulose, pigments, preservative… plus LOVE) which means that it's safe to use around my kids AND pets. 

Highly pigmented paint means I only need a couple of coats for an opaque finish
If you're a fan of color like me then you'll want to check out the Bohemian Brights collection I curated especially for DIY Paint!
Should I remove the hardware on the furniture before I paint it?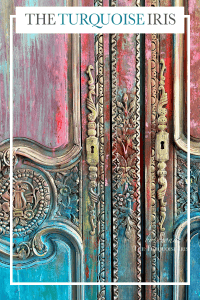 The reason I don't always remove the hardware on my furniture is that a lot of the pieces that I find have cheap looking hardware. Rather than replacing it with nicer, but still generic, hardware, I prefer to add layers of wax metallics and other patinas to the hardware to create a one of a kind finish that you can't just buy in a store. That said, if a piece has amazing hardware, take it off! Make sure you save every piece in a sealed baggy or other safe place. 
Should I paint furniture with the drawers open or closed?
How you choose to paint a piece is always up to you. For me, I like to treat every piece of furniture like a blank canvas. It's very helpful to leave all the drawers closed and look at my canvas as a whole rather than pulling the drawers out and having a lot of holes and making it choppy. I like my finishes in my blending to be smooth and seamless so leaving the drawers in is very helpful for that look.
What are you spraying on the paint and why?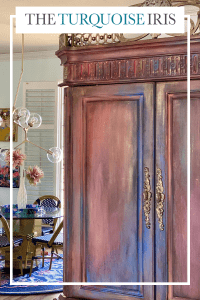 The bottle you always see in my hand is my Water Girl continuous spray bottle from a Paint Pixie. I learned to use a little bit of water when I started using chalk paint and it really enhanced my finishes and added to the blending in layers. It's definitely a must-have!
Do I need to sand my furniture before I paint it?
Not if you use DIY Paint! That is the only paint I use on my furniture and one of the number reasons why I use it is because you do not have to sand your furniture. It will stick to practically anything including metal and glass. Now, there are some really old pieces of furniture that have heavy varnish, and I will send those down lightly. I recommend everyone use their discretion and do what is comfortable for them.
Can I paint furniture that's not real wood?
It really depends on the type of paint you are using. DIY Paint is the best because you can use it on anything, but other paints might require a serious base coat before you attempt a makeover. For furniture painting, I prefer to choose wood pieces because I want the art I create to become an heirloom piece that lasts for years to come.
Should I switch my paintbrush between colors?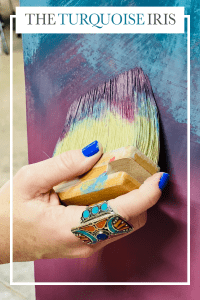 One thing people ask me a lot is why I don't use a clean paintbrush for each color. I know my elementary art class teachers would yell at me if they saw me "double dipping," but I have a good reason! I often will use the same brush for multiple paint colors because this allows for an easier transition between colors. It's almost like the brush does the hard work for you! Adding a little water and additional color will allow the brush to lay down the blending for you. I do change out my brushes if the color is a big contrast such as bright yellow and then bright blue. But for the most part, using the same brush for multiple colors will encourage the blending and that makes my job easier!
What are the best color combinations to use in furniture painting for beginners?
I have so many favorite color combinations and I LOVE color, so that's one of the hardest questions for me to answer. You'll never hear the word "neutral" come out of my mouth! If you want taupe, grey, or white then then ignore my next advice… You just can't go wrong with blue! It really sets my heart on fire but when you combine magenta, periwinkle and a cobalt blue. I get over-the-moon excited! Shades of teal and turquoise with a little bit of yellow are also sure to be a showstopper. Learn more about stellar color combinations in my blog about how to choose a color palette.
Follow me on Pinterest for tons of furniture painting ideas, home decor inspiration, color palettes, mood boards, and more!
Why isn't my painted furniture blending well?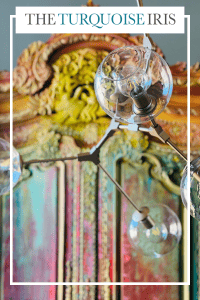 If you're new to blending, practice on old pieces that you aren't trying to flip or sell. Practice with different amounts of water and start with very little paint on your brush. With any form of clay or chalk paint, a little goes a long way. I've been blending and painting in this style for years so it just takes practice, like anything else. Be patient with yourself! Watch the video below for more tips on blending. 
What are the best furniture painting techniques for beginners?
Most of the techniques I teach can be used for any style of furniture, but adding layer upon layer of blended color is what really sets my soul on fire. A good place to start is my Blending Breakdown Tutorial Bundle. I combined three of my most popular blending techniques into a series that's perfect for beginners!
How do I finish and protect my painted furniture?
Most furniture artists use wax to seal their pieces! Furniture wax creates a fabulous barrier that helps to prevent chipping, cracking, and scratches.
How do beginners stay on top of the latest furniture painting trends?
I always encourage my coaching clients and community members to set their own trends, but some folks have found a lot of success painting custom pieces! If you're trying to keep up with all the latest news in furniture painting, then you'll want to join My Creative Connection. Here's what membership to this creative community gets you:
New furniture and canvas painting tutorials 

Guest expert interviews on subjects like encaustic painting, marketing, Pinterest, and more

Weekly LIVE Q&A sessions

Monthly challenges and contests (with prizes!)

Personalized feedback

Better Self Book Club

Access to YEARS resources, including tutorials, interviews, and masterminds

The support of an incredible community of creative minds
Originally posted August 27, 2020 and updated December 13, 2022
Do you have any questions about furniture painting? Let me know!