While green might not be the Pantone Color of the Year (that honor went to Ultimate Grey and Illuminating yellow), it's definitely the color of spring around here! The color palette for Issue 03 of The Turquoise Iris Journal is entirely shades of green and St. Patrick's Day is just around the corner, so I thought I'd put together a list of my absolute favorite GREEN furniture!
Green Furniture from The Turquoise Iris
I am certainly not one to shy away from a green piece of furniture! Green, to me, is such a versatile color that can elicit all sorts of feelings, from peace and tranquility to energy and action. One of my favorite things to do is mix green with metallic colors, like silver or copper, to give it the sort of effect I intended.
As you can tell by the staging, this piece was inspired by wintertime and evergreen boughs, which is why I added some silver to this piece! I think the silver gives it a cool, glam feeling that makes me think of forests full of rich, green branches adorned with sparkles of snow and ice.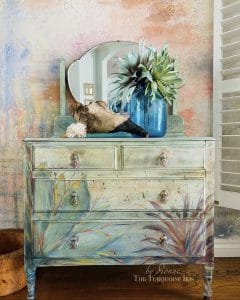 This piece (my first to feature succulents!) uses sage greens, warm oranges, and bright yellows to give it a more peaceful, hot and sunny vibe… which makes sense, since this piece was inspired by a trip to California!
Okay who doesn't love a good ombre?! One of the most important things to remember when creating ombre pieces is the undertone of the colors you are using. Ensuring that you stick with the same undertones creates a smooth, pleasing transition between colors. For example, all the greens used in this piece have more blue undertones than yellow!
My Favorite Green Furniture
Because I'd hate for you to miss out on all the gorgeous green furniture makeovers my friends have done, I'm going to share a few of my favorite pieces from some seriously skilled artists.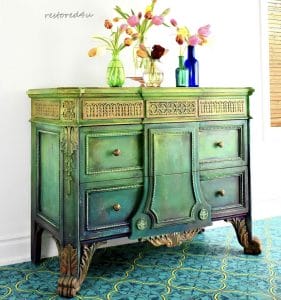 What better way to kick this off than by featuring our next #IrisJournal cover artist and owner of Restored4U, Ildiko Horvath?! Ildiko is an amazing artist and I am always inspired by her unique approach to furniture and pattern design! Trust me when I say you'll be blown away by her work in Issue 03!
Talk about a statement piece! This gorgeous wardrobe from Quitta Allen of All Shabbed Out is filled with color, texture, and lots of shadows for a truly moody, modern look. See more from Quitta in her cover feature in The Turquoise Iris Journal!
I can't get enough of the depth and texture in this piece from ReLoved by Maja Komasa! 
Can you say "personality"?! No one can mix fine art, words, and furniture quite like Vikki of Tatty to Natty Furniture! Vikki was in the first issue of The Turquoise Iris Journal and totally blew us away with her work.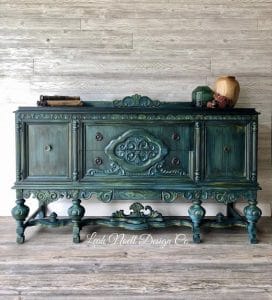 I LOVE this piece from Leah Noell Design Co! Leah is an extremely talented furniture artist, a Dixie Belle retailer, and a member of my Creative Connection group on Facebook. 
HELLO GORGEOUS! This piece from Dogwood Vintage Designz is called "Drama Queen" and I can't imagine a better title for this dramatic, statement-making piece.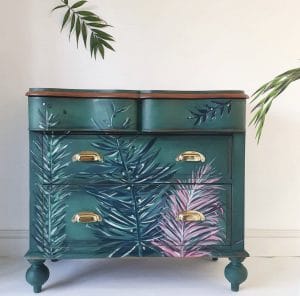 Chloe Kempster of Maisie's House is the artist behind this stunning piece and (fun fact alert!) this exact piece was featured on the BBC One show Money for Nothing! Chloe was featured in the second issue of The Turquoise Iris Journal and on PaintTalks's Podcast!
As creatives, there's always a little worry that the market is too saturated for new artists. We think, that's already been done before or why should I try when it won't be as good as everyone else's?
Take a look at all these pieces! Despite all of them being "green furniture," they couldn't be more different!
What do you think? Will you be using green in your next piece?