Growth Mindset Quotes For Artists
If there's one thing you should know about me as a creative coach it's that I believe mindset is the foundation for everything that an artist hopes to accomplish. My private coaching program, Empowered by Design, starts with Mindset as its first module for that same reason: at the heart of everything is how we see ourselves. This is especially true for artists. We get a bad rap for being fickle when, really, we simply require the necessary mindset to be ready to create because it's simply not possible to draw from an empty cup. But there are times when even the most confident, seasoned artists can still find their mindsets and confidence wavering. When that happens, we tend to get stuck in a creative rut or, worse, we don't feel like creating at all. This usually occurs after a difficult time in our lives, creatively or otherwise, when we aren't feeling strong enough for the kind of vulnerability that art can require of us. In order to help us through those times, it's important to cultivate a growth mindset! When we are focused on growth it's easier to keep going during those hard times, because we recognize that growth can happen even when we aren't feeling positive or confident. I've put together a list of growth mindset quotes that are perfect for artists who need a little push to keep going.
Growth Mindset Quotes
A growth mindset focuses on recognizing that growth happens incrementally, through the small decisions we make daily that impact our future. With an all-or-nothing mindset, we focus too much on perfection and, therefore, often feel unsatisfied, unfulfilled, and/or discouraged. It's easy to give up when you never measure up to your own expectations! But cultivating a growth mindset is important for artists, because we are always growing and changing and, with that growth, comes a bit of a messy middle. These first few growth mindset quotes are here to serve as a foundation for any mindset.
Mistakes are how I learn to get better. 
It is never too late to start.
Progress over perfection.
Challenges help me grow.
I do not need to do it all. 
Growth Mindset Quotes for Artists 
This list of growth mindset quotes for artists is accompanied by some of my thoughts on each quote, because it is my hope that you will hold onto these words and recall them in moments of difficulty. Most importantly, I hope they remind you that there is always someone rooting for you — me!!! You might also notice that I've worded these as affirmations and, well, that's completely on purpose because our brains believe the things we say about ourselves. So let's say something good, okay? Stick these reminders all over your home until they become instinctual responses to any challenge.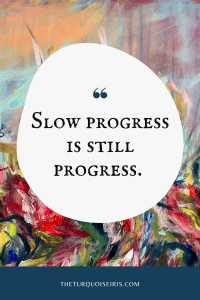 Slow progress is still progress. 
This is the ultimate growth mindset quote for artists!!! It all really comes down to this: whether we walk it, run it, or bike it, a mile is still a mile. It's so easy to compare ourselves to others, especially since everyone is on some form of social media, but it's a useless endeavor. None of us start from the same place or run at the same pace, so all that matters is that we keep going.
I can always start again.
"It's just paint." I used to say that all the time when I would go live and paint on furniture for hundreds of people. It was as much of a reminder for myself as it was for the viewers; it's scary to try new things! For so long I was afraid that whatever I was painting would turn out ugly, but then I remembered that it's literally JUST PAINT. I can strip it or paint right over it and the only person who'd know is me. Sure, it can be frustrating to spend hours on a piece only to have to start all over again… but those were hours invested in learning and knowledge is never a waste.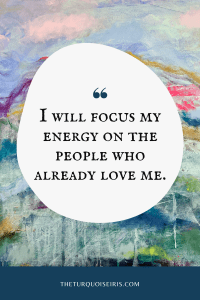 I will focus my energy on the people who already love me.
There is always going to be someone who needs to make a nasty comment about a piece of art they don't like. That's sort of the goal of art though, isn't it? We want to create something so uniquely beautiful that it moves people to feel something when they see it. Unfortunately, that means some people might feel rather negative about it and there's just nothing we can do about that. There will also always be people who simply hate to see others thriving and, (yep, you guessed it) there's nothing we can do about that, either. So why should we waste any time caring about their negativity when there are already so many people that love who we are and what we do?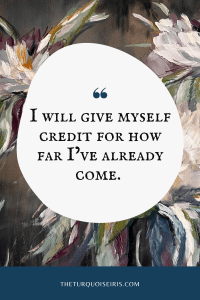 I will give myself credit for how far I've already come. 
Much like art, we are all a work in progress and it's only at the end of the process that we will finally see the full beauty of our lives! Expecting to see the finished product before we've had time to complete the journey is simply self-defeating. Instead of judging the distance to the finish line, we should recognize and celebrate the actions that we've already taken that have brought us to this point. There's no better way to move forward than simply putting one foot in front of the other, over and over and over.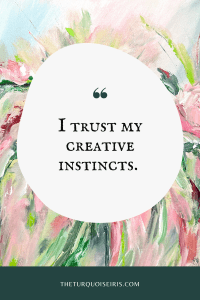 I trust my creative instincts. 
Oh boy, this one requires a leap of faith but it is so worth it. TRUST is the key word here, my friends, because there are times when you are going to think that you cannot do something. You might think it so hard and so much that you start to believe it. It might take time and a few dozen failures, but if you're willing to let go of fear and truly trust that your creative instincts will carry you through then I promise that you will soar. 
Share your favorite growth mindset quotes with me!
Leave a comment or follow me on Facebook, Instagram, or Pinterest to share your favorite quotes.