It's almost the new year, and it's my goal to give my followers all the inspiration they can handle before 2022 begins! This week it's all about home decor ideas that I think you should try in 2022! In the past few weeks I've found myself inspired by the Winter 2022 issue of The Turquoise Iris Journal.
In our next issue, we're featuring all the things that we know will spark your excitement for the year ahead… including some design trends that you just have to try!
Home Decor Ideas to Try in 2022
Whether you're a creative looking to bust out of a rut or a homeowner looking to infuse your home with a little something special, this list of home decor trends is sure to inspire your next round of decorating.
Try these home decor ideas in 2022…
Home Decor Idea #1: DIY & Sustainability
What do you get when you add the job insecurity of 2020 plus the supply chain stress of 2021 and global concerns for sustainability? You get 2022's biggest trend: DIY Decor!
You might already be able to tell (based on my painting tutorials or furniture flipping courses) but I love to see old pieces of furniture find a new life with a few coats of paint. It's more than just resourceful; it's a statement and a work of art all in one! For years we saw big box stores and flat pack furniture take over homes but, now, everyone and their daughters are reclaiming old furniture and making it their own!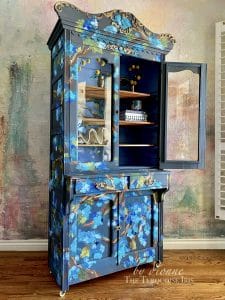 In 2022 you should expect to see a lot more painted furniture, handmade decor (think wall hangings, shelving, etc!), and DIY reupholstering a là Wendy Conklin of Chair Whimsy (see her article in the first issue of The Turquoise Iris Journal!). 
Want to hop on this train before it leaves the station? Check out one of my tutorials!
Home Decor Idea #2: Bright Colors
Furniture artists, rejoice! It's finally time to say sayonara to white furniture! I predict that 2022 will be all about embracing the things that bring us joy… color being at the top of the list! That's why the Winter 2022 issue of The Turquoise Iris Journal is all about NEONS, featuring the Neon Queen herself, Anissa Marie!
We had a feeling that bright colors would take the lead next year and it turns out we're not alone… Pantone has announced Very Peri as their color of the year and included a few suggested color palettes. Our favorite is "Amusements," which focuses on fun and whimsy as the primary goals for the palette. See for yourself on the Pantone website! 
In addition to the bright and beautiful, I also predict that we'll see a lot of my favorite color palette next year: green and pink and here's why…
Home Decor Idea #3: Inspired by Nature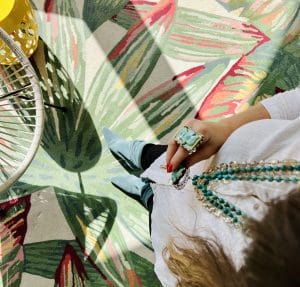 Another home decor idea to try in 2022 is anything inspired by the great outdoors! From natural fibers to luscious gardens to floral patterns, I have a feeling you'll find a bit of Mother Nature everywhere you look. Need some inspiration? The fourth issue of The Turquoise Iris features landscape expert Llewellyn Krastev as our cover artist and an entire spread of gorgeous gardens to inspire your interiors!
Home Decor Idea #4: Bold Patterns
While bright colors are dominating the design palette next year, you should also expect to see bold patterns, too! I think 2022 will be very indulgent (think the Roaring Twenties 2.0) with statement-making patterns on everything from furniture to fashion.
Look no further than Issue 04's own Danielle Shunk, who introduced Iris Journal readers to the Happy Chair, for some inspiration! Danielle mixes several fabrics, textures and patterns for a whimsical, one of a kind chair that's sure to bring joy to your heart and home!
Home Decor Idea #5: Curves & Carvings
Another fun trend to try? Vintage-inspired furniture! From headboards to hall tables, we're saying goodbye to flat-pack furniture and embracing curves and carvings in every available space. This is also reminiscent of the art deco trends of the past. The goal with this decor idea is to embrace comfort and reflect that in the shapes and textures of our homes. 
Home Decor Ideas & Inspiration for 2022
Artists To Inspire You
Anissa Marie of Anissa Marie Collective, The Winter 2022 cover artist for Iris Journal, is a queen of color in my book! Her recently-released line of paints, Neons by Anissa, for Daydream Apothecary are sure to inspire your next furniture makeover!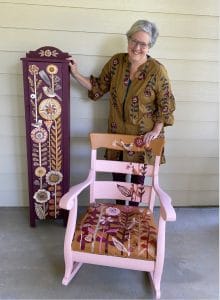 Artist Lori Siebert, featured in the Fall 2021 Issue of The Turquoise Iris Journal, is a fantastic resource for many of the trends above! She is known for bright, nature inspired patterns and has recently launched a new event called Artful Junk Assemblage where she teaches guests how to make nature-inspired sculptures made from upcycled materials!
Issue Two cover artist Quitta Allen, known for her incredible works of art painted on ornate second hand furniture, is a must-see when it comes to furniture inspiration! Her use of color and depth will inspire you to redecorate your whole house just to match one of her pieces. 
Dying for some upholstery inspiration? You just have to see the way that Jackie Strydom can transform a piece of furniture; she is truly changing the game when it comes to furniture makeovers! Catch her exclusive furniture makeover for The Turquoise Iris Journal in Issue Five!
Get more inspiration every quarter with an annual subscription to The Turquoise Iris Journal!