How to Repurpose Content – For Artists!
Do you ever watch content creators on social media and think "How in the WORLD do they find the time for all this?!" You're not alone. For most of us with a creative or online business, creating content for our websites and social media usually falls into the "I know I should do it but I don't want to do it" category of business tasks. If you've been avoiding content creation because you're not sure how it's possible to keep up with a regular schedule, then let me help you! I have tons of great tips about how to repurpose content to grow your business!
Why You SHOULD Repurpose Content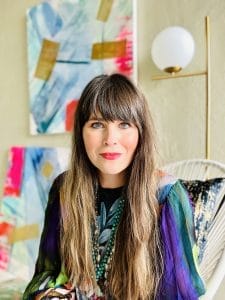 Creators these days feel like they're under constant pressure to create MORE MORE MORE and NEW NEW NEW, right? I know plenty of business owners who are overwhelmed by all the things they think they're supposed to do. The good news is this: YOU get to decide where, when, how much, how often, and in what way you provide value to your audience. That's where repurposed content can come in; you can update, break down, expand upon, or otherwise remix your existing or old content to provide value across many platforms!
The main difference between reusing, recycling, or repurposing your content is the intent behind it. The goal should never be to simply fill up your content calendar but to provide content that your audience needs. Audiences are savvy! They can see through those "filler" posts and blogs and are less likely to engage with them. Instead of wasting time scrolling Pinterest for "social media captions" to add to your images, your content calendar should be audience- and purpose-driven.
Your audience normally consists of every customer who has interacted with your business, from seeing you on their social feeds for the first time to being a loyal customer of many years. It's actually important that you reshare old content so that your new audience gets a chance to see it!
The purpose of your content is what determines when, where, and how it should be shared!
How to Repurpose Content
In the world that I come from, one of furniture makeovers and creative DIYs, the word "repurpose" usually means take one thing and make it become a different thing. In content marketing, "repurposing" can be as simple as updating an old blog post.
Tips to Repurpose Old Content
Old content can be used to create new content in many different ways! Here are some of my favorite examples:
Turn an old blog post into a new video

Take a live video interview and edit it down to share as a podcast

Break an old blog post into bite-size daily tips for social media

Compile a series of short videos to create a full-length course or tutorial

Old photos and videos can be reused to create new advertisements
Transcribe your most popular videos and turn them into blog posts
Look at the photo above, for example. I can use this photo so many different ways on Pinterest; to sell the canvas, to promote the paint line I used to create it, to promote the paint tools I used in making it, to trend for "spring fashion," to trend for "abstract canvas," and so on! Think of your blog posts and videos the same way; perhaps they had one intent when you first created them but I bet they could be upcycled into something new and useful to your audience!
Tips to Repurpose New Content
Work smarter not harder, folks! If you've ever seen me paint on a live video then you know that I live by this rule; I lay down paint backgrounds by loading up one big brush with several colors so that I can have a fast, easy, seamless blend… and that's pretty much how I feel about content marketing. 
When my team and I are creating content plans for each quarter we start with the absolute musts: offer launches, new products, events, or anything else that's locked into a specific timeframe. This gives us an opportunity to then create a checklist of old content (blogs, videos, tutorials) that can be updated, reused, or re-shared with our audience to help promote what we're working on. This helps serve all the new members of my audience who may have missed that content the first time around. Finally, we look at new trends to determine what key topics we can address that month, which is where the new content comes in.
See the image above? I had styled the photo to take pictures of the furniture and canvas to be used on my website. But I can also use this photo in a blog about boho living room decor – a topic that is trending on Pinterest!
Each month, the topic of the new content becomes a single idea from which all our content is broken down. That's right, I take one single idea and repurpose it into a bunch of bite size pieces. I'll break it all down for you! Let's look at the month of Februrary, 2022.
After we noticed that Pinterest had rolled out live video on their platform, my team and I decided that we really needed to help my audience get comfortable with live video. Not only is live video on every platform now, but I've actually been saying that it would be for years! So we knew our "big idea" for the month would be Live Video.
After planning to repurpose all my old content on the subject, we made a plan to create content on a few new, relevant topics:
This one might sound familiar… How to Repurpose Content!
See, we know that my audience has some concerns about going live — how to do it, how to look good on camera, and what to do with a live once it's over — so we choose a topic each week and share that in a blog post. These blog posts become the long-form content that we repurpose it to create other content. This blog post, in particular, will become a series of Pinterest pins, stories on Instagram and Facebook, probably a short video on Instagram, content for my email list, and shared on every platform.
How to Repurpose Content into Products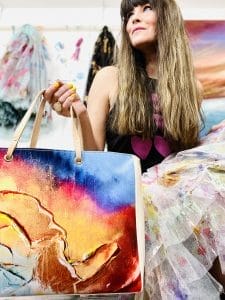 One thing that artists tend to do is devalue our own knowledge. When something feels joyful or instinctual, the way that owning a creative business can feel, we often forget how much learning it took us to get to that point. When my coaching clients ask me what products I think they should launch, I always ask them two questions: what do you already know a lot about and what does your audience want to know?
Often, they'll find a rather large cross-section between those two answers, usually in the form of old blogs or videos. I'm a big fan of using that old content to create something new for your audience.
Here are some examples:
Have a lot of blog posts on one topic? Think you could add even more information? Pull the posts from your website and rewrite them as chapters of a book, filling in all the gaps with new chapters. You can package this and sell it as an e-book!
Consider all the skills, knowledge, and techniques that have become instinctual to you over the years. Those skills are essential to the creation of art and business, which means that other people will be interested in learning them! Old videos can be edited, replacing old audios with new scripts to create tutorials.
Likewise, entire courses can be built by bundling old tutorials altogether for a discounted price.
Do you find yourself talking about a particular topic when you go live? Transcribe those videos and use them to create a masterclass complete with audio and a workbook.
Have lots of photos of old canvases? Turn them into digital products, from stationery to NFTs — the opportunities are endless! Just look at the image below; I turned a canvas painting into a tote bag!
Are you launching or growing an art business?
Here are some resources that can help!
Pssst… Want to learn more about how I create my content plan? Let me know in the comments and I might make it a future blog topic!
Make sure to follow me on Instagram for tons of great video content!