If there's one thing I love, it's color. Blue is, of course, my favorite color because it reminds me of the ocean and all its moods. It can be dark and stormy, light and serene, foamy green or clear azure. 
Since I use blue in so much of my work, I thought it would be fun to round up my favorite color combinations and some further inspiration in the form of beautiful old doors! This isn't the first time I've found inspiration in old doors, either. Click here to read an old-door inspired post from the archives.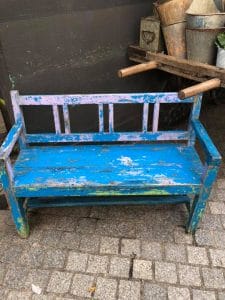 I love old, chippy doors because, after years and years of re-painting, they often contain beautiful layers of color that manage to be both exciting and beautiful. 
I've also included the color recipes for each piece and every color listed is from DIY Paint.
Perfectly Primary
One of my favorite ways to make a blue POP is by adding in some warm tones. For this piece, I went with mostly primary colors and added in a little bit of Mermaid Tail for some depth.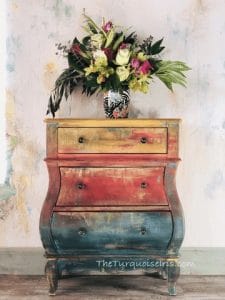 Color Recipe
Queen Be

e
Carnival Red
Mermaid Tail
Bohemian Blue
Sometimes it can seem like mixing primary colors together would be too jarring, but as you can see by these photos I took in Paris, it actually creates a beautiful balance.
Turquoise Dreams
Though I'm sure it comes as no surprise, I must admit that I LOVE shades of turquoise blue from mint to teal… or, as Debi from DIY Paints calls them, Mint Chip to Bohemian Blue.
For me, layering different shades of blue over one another is like watching waves lap up against the shore. It has depth, movement, mystery, intrigue, and, above all, a sort of serenity you only get from being near the ocean.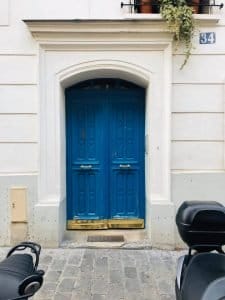 Bluetifully Royal
You didn't think I'd make a list of my favorite blue combinations without including this Parisian Hutch, did you? I mean… COME ON! Does it get more statement-making than that?
While purple is the "official" color of royalty, I've always found deep blue and gold to be a much more opulent color combination. There's something about the way warm gold pairs with the royal blue that makes it feel really special. When I visited France last year I saw this color combination on a door and I knew I had to recreate it.
Color Recipe
Blue Iris

Water Lily

Monet's Garden

Golden Ticket
Blue is a color that looks good with any design style and pairs well with almost every other color.
If you want more color inspiration, check out my Pinterest boards! 
What are your favorite color combinations? What hue would you like me to feature next?