Hey y'all! I have something really special to be thankful for this year.
In case you didn't know, my family recently moved into a new home!
While the move itself was, like all moves, a bit stressful; I was very excited to get into the new house because I FINALLY got a studio!
WOO-HOO! No more painting furniture in a freezing cold garage!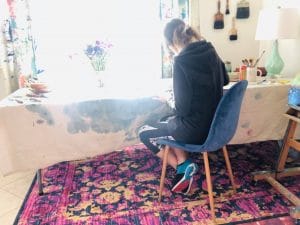 I can't begin to describe what a dream come true it was to decorate and organize my own studio. There is something so powerful about dedicating a room to my art and business that really makes it feel like a sacred space.
When I posted some photos of my studio online, I was surprised at the response! People loved it (yay) but all anyone could really talk about were my curtains! CURTAINS? Really?
People asked me so many questions about those dang curtains that it really cracked me up. They aren't fancy, hand-painted things… they're actually my old drop cloths! I just scooped 'em up off the floor, stuck them on a curtain rod, and BAM! New curtains that people are raving about.
But, for some reason, those curtains really make people smile and it got me thinking…
What other ways can we give old art supplies new life?
I've got a special blog post allll about that brewing for you. In the meantime, here are some more photos of my studio. Eventually, I'll make a post about the new house, too! But we have some rooms that need to get painted and some furniture that needs to be organized before I'm ready for y'all to peek inside my home.