I thought I'd celebrate the launch of my favorite season with my favorite spring fashion trend: hand-painted clothing! It wasn't until I started painting furniture that I even realized how much I truly was made to paint, so it only makes sense that I always find myself going back to unconventional canvases. What started on furniture quickly moved on to accessories, clothing, journals, and whatever else I can think of… Last month, I knew that I needed to add another hand painted item to my wardrobe because I received not one, not two, but THREE incredible invitations to some incredible celebrations… and they all happened the same weekend! Here's the story behind the DIY painted denim jacket, skirt, and hat combo that I made last month.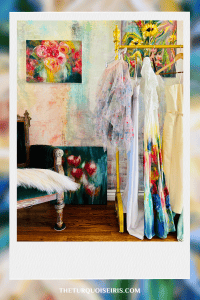 DIY Painted Denim Jacket for Junk-O-Rama Prom
Do you ever have those times in your life when everything overlaps all at once? Spring is one of those times for me and it all started with baseball. Spring is officially Baseball Season across the USA and especially in the Woods household because both of my boys have played ball for most of their lives, so our weeks are filled with ballgames and banquets. That's enough to keep this momma busy, but as my business grew… So did my spring activities! It's when we publish the spring installment of The Turquoise Iris Journal, when we have birthdays, and — this year — when some big events were happening with a few of my absolute creative minds!
The trip started with a meet & greet at Old World Antieks for the MadeTV Round Up Party with Jo Packham! I'm one of the MadeTV Network's featured makers and it was so much fun to spend time with Jo and other creative women like Robin Brown of Magnolia Pearl, Lori Siebert, and Vanessa Kiki Johanning. But I have to confess that, when I first got there, imposter syndrome had me shaking in my boots! I really questioned whether I belonged or whether I'd say the wrong thing or make mistakes. Until I heard Jo speak. Everything she said really confirmed to me that I was in the right place, surrounded by a sort of family. I felt safe, welcomed, seen, and loved… The exact way I always want other people to feel! That really drove home two important reminders: I am welcomed, seen, and loved and that my life's goal must be to ensure every artist gets to have that experience.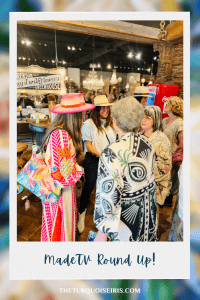 At the same time that I was in Texas, Team Turquoise was scattered across the country working hard on the spring volume of The Turquoise Iris Journal. The theme for our spring issue is Imagine (get it here!) and just weeks before my own imagination had been captured by a photo of Lauren Daigle wearing a flower crown. I imagined a photo of myself in a field of tall grass, wearing a pretty dress and a flower crown on my head. (Side note: If you ever get the chance to twirl around in a field with a flower crown on your head, think of me and say YES!!! Your inner child will thank us both.) In honor of the Journal, I dragged my Michelle (of Eleven Eclectic!) out to a field to capture that photo for our summer volume! Michelle insisted that we make our own flower crowns so we ran to the supermarket and bought three bouquets of fresh flowers and made our crowns in the hotel room! The inspiration behind our photoshoot was Laugh, which is also the theme for our summer volume.
The next day we drove to Round Rock, Texas, to visit Wendy Conklin of Chair Whimsy, to celebrate the launch of her new book, Life Whimsy: How to Think, Play, & Work More Creatively. We were fed delicious cupcakes, got a tour of her incredibly beautiful home, studio, and camper. I also got to meet Wendy in person for the first time ever! Not only is she another creative that I admire so greatly, but she has been featured on the cover of The Turquoise Iris Journal and she is someone that brings so much joy to the world.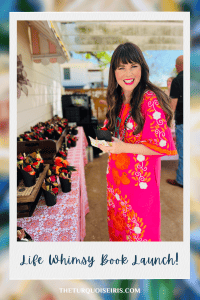 We finished the night by attending the wonderful Junk Gypsy Junk-O-Rama Prom. In addition to the DIY painted denim jacket, I wore a hand-painted hat and a painted tulle skirt! The event was held at Junk Gypsy HQ, their brick and mortar store, which is one of the most beautiful and well-curated retail spaces I've ever seen. Michelle and I had a blast meeting some wonderful people that we have been dying to meet. But my favorite part was the moment I'd been waiting for: taking those cowgirl boots out for a turn around the dance floor! I love to dance, it always puts a big goofy grin on my face, and I couldn't have asked for better ambience. Perfect weather, amazing music, fabulous people, a custom outfit, and some good old boot scootin… Is there a more perfect evening?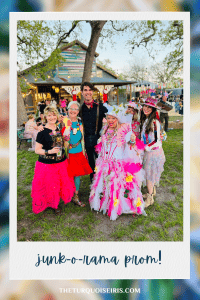 How I Painted a Denim Jacket 
Painting a denim jacket isn't exactly reinventing the wheel… But that doesn't make it any less fun! For me, experimenting with my art isn't about doing something no one else has done, it's about exploring how a new canvas shapes my own unique style. And this DIY Painted Denim Jacket was all about having FUN! I had a blast combining some paint, old canvases, and velvet ribbon for a truly one-of-a-kind piece of art that I can wear all season long. 
The first thing I did was take apart an old painting. I cut out all the flowers and practiced laying them out on the back of the jacket.
The easiest part of the painted denim jacket was choosing a color palette, because I will always lean towards blue! I watered down the paint for a watercolor effect and had fun splattering the jacket.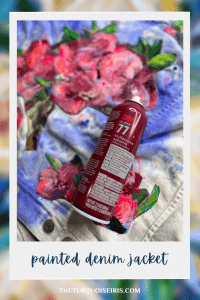 I also took some of my favorite velvet ribbon and added it as trim.
After all the trim was added, I decided the jacket needed one more layer of color to make it really pop, so I splattered some hot pink paint on top. I think those highlights make all the difference!
To finish it all off, I added a vintage floral pin to my lapel.
What do you think? Are you going to add a painted denim jacket to your spring wardrobe?