Helloooo friends! Happy New Year! I started the year off with something TOTALLY different…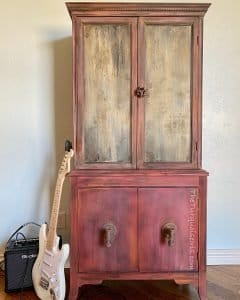 Say "Hi!" to Pretty Little Steampunk!
A few years ago I got this piece, painted her gray, and she sat around our house holding our photo albums and things. After our move, Matt and I decided it was high time that she got the makeover she deserved. I started out by lightly sanding the grey and giving her a base coat of Marquee Red on the front. I also painted the glass, which was new to me!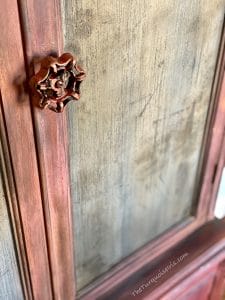 I really wanted the glass to look like mercury glass, but everything I read said it required some sort of acid and spraying the back of a mirror. No way was I going to mess with that! Instead, I used a mixture of Golden Ticket and added some Beadboard and a touch of gray to give it a grayer tone. As it dried, I dry-brushed it and used my brayer from IOD to add some texture. I wrapped it up with some black wax and Decrepit Dust. I am SO in love with how the glass turned out!
In one of the live painting videos we did for the piece, we had a viewer comment that it looked very "steampunk" and everyone seemed to agree with her! Well… except for Matt and I because we didn't know what it meant!!! After a quick Google search we realized that she totally nailed it!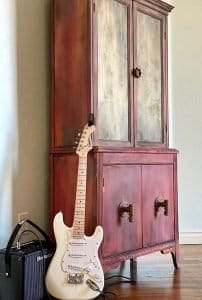 I covered the front and sides of the piece with a blend of Marquee Red, Cowgirl Coral, Firestarter, and Copper. One of the things I LOVE about DIY Paint is that it can be reactivated with water. It's so nice to take a break from a piece, get some inspiration, and be able to come back later with my Turquoise Iris Water Girl continuous spray bottle to blend those colors together.
We both decided to fully embrace our Steampunk inspiration, so Matt found plumbing fixtures (pipes and a faucet handle) that we used as the hardware. I painted them with copper to make them a little more steampunk and I added some turquoise wax on top to give it some patina!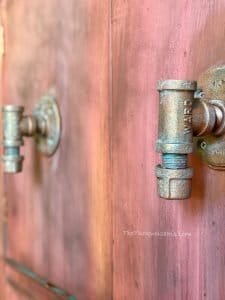 In addition to totally stepping out of my boho comfort zone, I tried another new idea with this piece… I painted it upside down as a part of a challenge in The Turquoise Iris's Creative Connection Facebook group! 
Color Recipe
As always, I used DIY paints and waxes on this piece!
Cowgirl Coral
Marquee Red
Firestarter
Copper
Golden Ticket (for glass)
Decrepit Dust (for glass)
Black wax
If you want to catch the moment when Pretty Little Steampunk got her name, learn how I achieved the coppery color, or watch me create some depth with black, just click here to watch the Pretty Little Steampunk Playlist!
She's ready for her forever home, click here to adopt her!