Every Monday morning is dedicated to checking out the latest trends so that I can share them with my coaching group and this week I was treated to a big surprise: "spackle art on canvas" is trending! If you've been following me for some years now then you know that I'm all about innovation. (I even made it the focus word for the Summer 2022 issue of The Turquoise Iris Journal!) What started with adding water to my paint for a uniquely drippy finish that caused my followers to challenge themselves to #DoTheDionne eventually led to me using spackle to create a textured staging wall. You can find that tutorial on my blog!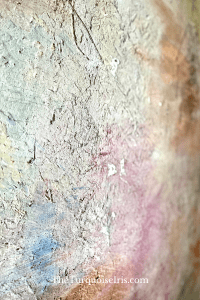 I put the spackle away until my favorite paint company, DIY Paint, came out with a new product called Paint Frosting! This incredible spackle compound mixes with DIY Paint and pigments for delicious depth and texture, so I knew I had to use it in a tutorial for my coaching group. It was a blast!
So when I saw what was trending, I had to see what it was about. I loved seeing all the texture but… where is the color? As of right now, at least, all the image results I could find are white-on-white. I know that farmhouse and shabby chic styles are classics and plenty of folks are happy with a monochrome palette, but not me! So, I thought it was time to do a new, bright and boho spackle art on canvas tutorial because life is too short to live without color.
Spackle Art on Canvas Tutorial
One of my coaching clients asked me, "What is your secret to painting so fast?"
That answer has two parts. The hard part is learning to trust your creative instincts, but the good news is that the easy part is really easy: for the most part, I use mainly DIY Paint, which dries quickly and is extremely forgiving since it can be reactivated with water. The even better news is that this particular project is both easy and fast! You'll have a beautiful piece of colorful, abstract art in just a few short hours.
Spackle Art On Canvas Supply List
PRO-TIP: I use cling wrap on the inside of my bowls when mixing the paint frosting for easy clean-up! 
How to Create Spackle Art on Canvas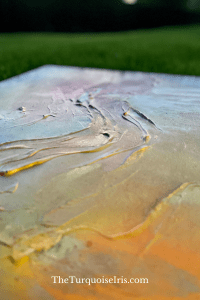 Start by preparing your spackle or Paint Frosting! I mixed mine with paint to get just the right texture before using my palette knives to create a rough texture on the canvas. Once that dried, I applied spray paints in lots of layers. I really like the way they build on each other, peeking through here and there to pique interest and create depth.
Spackle Art On Canvas Video Tutorial
More of a visual learner? Check out the video tutorial I made just for you!
That's it! Making spackle art on canvas is easy and so much fun! So many of the artists I work with talk about wanting to add texture to their art but struggle with figuring out which acrylic mediums are right for them. This is a fool-proof way to guarantee you'll get gorgeous art while still allowing you to experiment and try new things.