It's time for a summer photoshoot! A few weeks ago, I loaded my car up with HUNDREDS of flowers with the goal of a photoshoot with Winston, my old Chevy truck, to use on the cover of The Turquoise Iris Journal this fall. Unfortunately, poor ol' Winston wasn't up for the trek and so the shoot had to happen in my backyard instead of on location. I hope this summer photoshoot serves as inspiration for your own stellar shots because I had a BLAST taking these pictures.
Summer Photoshoot Inspiration
Before I get into the details of the shoot, I need to say this: EVERYONE deserves to be in front of a camera at least once in their life. It doesn't matter what you look like, what you're wearing, or how old you are — your soul is the most beautiful thing about you and the world deserves to have documentation of your existence. Please, for your loved ones, set aside your insecurities and allow yourself to be photographed in all your glory! 
Okay, okay, now that we've gotten that important note out of the way it's time for me to tell you all about the delightful photo session I gave myself! With a little help from my husband, Matt, and my trusty tripod, I was able to get a few stunning photos.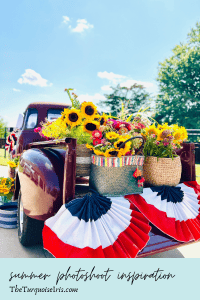 After that, we recruited sweet Roxie, my other car, and did a little mini session featuring my new, hand-painted art journals.
Unlike the poolside painting feature I did for the Journal that went horribly wrong (read about that in our latest issue), these shoots were a ton of fun.
Tips for Summer Photoshoots
Dress for the weather
Here in OK it's been in the triple digits which means lots of dresses, water hidden behind-the-scenes, and shade whenever possible.
Use props
If you're uncomfortable posing in front of a camera, try getting a more candid shot by holding a flower, journal, book, or even a beach ball. 
Tell a story with your photos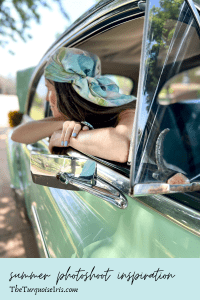 Not sure what to do with your face or body? Take a look in some of your favorite magazines to see how their images tell a story. In the photos below, I imagined that I was on a long road trip with Matt at the wheel.
Mimic movement
The key to really engaging photos? Movement! Twirl, spin, or embrace the wind for a little extra magic in your pictures. What do you think? How did these pictures turn out? I had so much fun capturing these!
Get the inside scoop on everything Iris when you subscribe to my newsletter! It's free and filled with exclusive color recipes, mindset tips, tutorials, and more.