Whenever I ask members of my community what they're struggling with the most or what they need the most help with, about 50% of the responses are just one simple word: TIME. We all struggle with time — whether you're a CEO, a stay-at-home-mom, an artist, or the world's most famous actor — but we're all bound by the same 24 hours each day and there's just no way to get more of it. Instead, the key is to learn how to manage our time wisely so that we can utilize those 24 hours in a way that works best for us. I wanted to share a little peek into my process to let you know you're not alone! These are some of the best time management tips for artists that I can think of, but if you have more please drop them in the comments! 
Time Management Tips for Artists
Before I launch into my tips, it's important that we recognize a universal truth: no one gets everything done every day. We will all drop a ball from time to time, the key is to know which of them are okay to drop and which of them are non-negotiable. Do not feel bad if you can't check everything off your checklist! 
Organize your workspace.
This is probably one of the most important time management tips for artists because it's the one that we don't always associate with time: it all starts with your workspace! I approach organizing my studio space the same way that our wonderful pre-K teachers approached the classroom: by creating stations to move between.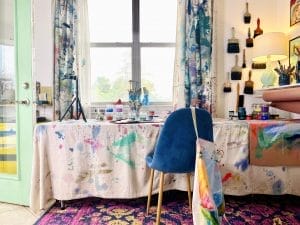 My business station is in front of the big window. This is my desk where I conduct live videos, do my planning, and hold meetings. To the right of that space is an organization station where all my paper, pens, candles, notebooks, cards, and calendars are housed. The next station is a wall full of ready-to-paint canvases with several rolling carts and toolboxes full of supplies right underneath. I always (always, always, always) have a drop cloth out so if I have a free 30 minutes it's easy to just start playing in the paint.
The station to the right is a wall of hooks where I hang all of my supplies. There are six thin, 6" shelves with paint, spray paint, mixing powders, bowls, empty tubs, and aprons hung on a wall — ready to grab. I like to have everything out in view! It takes so much less time to get set up if I can find everything quickly and easily rather than digging through bins or drawers or cupboards. The next station is a large cabinet full of more craft and painting supplies. Next to that is another station where my easels sit (with canvases always ready to go) and another rolling cart full of supplies. Learn more about my art studio organization here!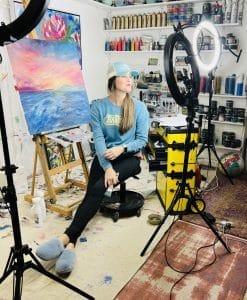 Because my stations are well-organized, I can move seamlessly between tasks! As soon as a meeting is over I can walk three steps to the right and get back to a painting that's hanging there. Try to create a space that you don't have to clean up, even if this means condensing two closets down to one and adding shelving so you can have one floor-to-ceiling space that's just for art supplies.
Choose a focus (and stick to it).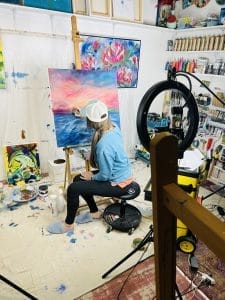 Typically there is one big thing and a few small things that require my attention each month. I begin with the most pressing or important task. That could be anything from the Journal launch (Issue 06 is out now!), ticket sales for retreats and workshops, hosting retreats and workshops, opening my Empowered by Design private coaching group, filming a new course, and so on. From there, I work my way backward and break it up into week by week of what must get finished. Belief in myself and my abilities is a must because I am the one who has to hold myself accountable.
The accountability piece is difficult for so many of us creative people who work from home! We allow others to hold us accountable but we have a hard time doing it for ourselves, which is why I have learned to be very strict with my schedule. Writing it down on paper or in an agenda is a must for me because it helps me stick to the timeline… which is crucial for not falling behind!
Set boundaries.
The most important aspect of managing your time is how closely you guard it! Boundaries are crucial for making sure that you actually get the time you need to accomplish all your tasks. I set aside blocks of time to get things done and that is the only thing I will work on. Even if I'm not finished with a particular task at the end of my time block, I still set it aside and move on to the next one. I block out time for everything, from exercise to painting, because if I don't then it's very easy for one thing to eat up the majority of my day! I also set boundaries with my clients and loved ones so that they know what I'm doing and when. It's really important to honor our commitments to ourselves and we can't do that if we allow other people to dictate how we spend our time. This also means that I schedule time with my family and don't let anything distract me from that, either!
Get creative!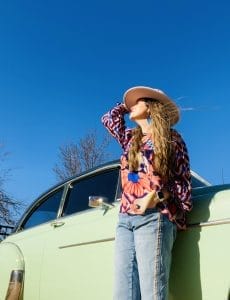 There are a few things in life that we simply can't avoid and waiting around for things (appointments, flights, meetings) is one of the worst. I always have a list of tasks that I can do on my phone, from sharing on social media to scheduling a different meeting, and knock them off my list while I'm waiting for something else. These tasks aren't usually "must do" items but rather "would be nice to do," which helps alleviate the guilt if I'd rather text a friend than respond to comments on Facebook. 
Downtime is critical. 
The most important part of time management is remembering to schedule time off. Artists are especially prone to the guilt and burnout that come with running a creative business. Sometimes it can feel like every moment spent not painting or running your business or doing chores is a moment wasted. It's not!!!! Rest is just as important to running a business and the creative process as actually doing the work. We've all been there, right? So overwhelmed with all the stuff we should be doing that we find ourselves too exhausted, stressed, or depressed to do any creating when we finally get time to. Make sure that your schedule includes regular blocks of time to decompress, de-stress, and relax so that you're showing up as the best version of yourself when it really matters.
Time Management Tips — Pin It!
Save this pin as a reminder!