Whether you're shopping for yourself or the creatives in your life, these unique gift ideas are a powerful way to show your favorite artists that they are seen. 
Unique Gift Ideas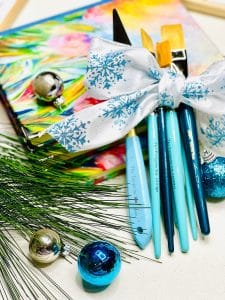 Here are some fun, and definitely unique, gift ideas that artists will love.
Unique Gift Ideas for Artists
Aprons and drop cloths –

Art can be messy, especially if one doesn't have a dedicated art studio. Make their season stress-free with protective aprons or drop cloths.

New water cups –

I think everyone has accidentally taken a sip of paint water on occasion. Help prevent this mix up with a new water cup specifically for painting.

Massages –

I can't tell you how many times I've stood up from painting with a stiff neck, tight back, or creaking knees! A massage voucher is the perfect way to help anyone relax. 
Easels- A nice easel is a fantastic gift! Bonus points if it collapses to a small size for easy storage.
Rolling stool –

I was gifted an adjustable rolling stool once and it's honestly one of the most useful things I've ever received! Whether I'm using it for live videos or just to scooch myself around a piece of furniture, this handy tool has saved my back from a lot of pain!
Colorful containers – Art supplies can be tiny and take up a lot of space. Cute, colorful containers are great for artists to store all the little bits and bobbles we use for creating.
Vintage art supplies – Talk about a thoughtful, unique gift idea! Vintage art supplies like

old palettes, brushes, and paints (or anything with historical significance) make fantastic decor for art studios.
Gift cards – I know, I know, this one isn't exactly unique… But the phrase "kid in a candy store" has NOTHING on an artist in a craft store! If you want to see pure joy, start there.
Art Supplies
Another unique gift idea for anyone on your list: art supplies! Maybe you want to send a signal to someone you love that they are ready to tackle the hobby they've been afraid to start or perhaps you just want to show the special artist in your life how much they mean to you… either way, there is simply no such thing as too many art supplies! I can guarantee that everyone is happy to open fresh tubes of paint, new brushes, or even blank canvases.
Paint adds up! Being given the gift of our favorite products and mediums is sort of like being given a guilt-free pass to do the thing we love most: paint!
Not sure where to start? The new DIY Paint Frosting paint thickening agent is an incredible new product! It turns DIY paint into, well, a frosting-like substance for unique textures and an oil-paint feel.
I don't know a single artist who has ever said they have enough brushes. Some of my most-used brushes include The Magic Pack, My FAVORITE Furniture Brush, The Water Girl, and the Brayer from IOD.
Brush Rolls
My favorite brush rolls are from Darrell Standing! You can order here. 
Staging Supplies
One of the most difficult aspects of creating art is figuring out ways to stage and photograph your work! Help the creative process along with a few unique gift ideas that will make staging a cinch.
Old architecture –

hit up those secondhand stores to snag old pieces of architecture — like doors, shutters, and windows — that are perfect for hanging paintings.
Vases –

Flowers are a timeless staging tool, so making sure that your favorite artist has a wide variety of vases to choose from when staging can make all the difference. Put the FUN into functional!!
Books and Decor –

Good staging requires

layers

and

depth

. My favorite way to achieve these effects is to use books and decor to achieve different heights and looks on my piece. Find unique, fun, or personal pieces that will make your loved ones gasp with joy… and inspiration!
Continuing Education
"
I don't know a single artist who hasn't enjoyed learning new techniques from other artists in their life. 
Tutorials –

Best for beginner artists or anyone new to a specific skill, tutorials are a quick and easy way to learn a new skill quickly.
Courses –

Perfect for high-level skills, courses can cover everything from branding to business to artistic techniques! Ask your artists what skills they want to learn… I bet there's a course out there to teach them everything they'd ever want to know.
Personal Development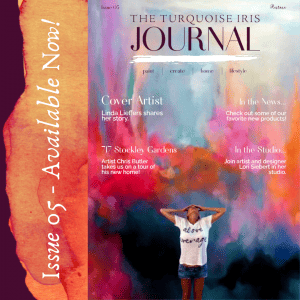 My digital magazine is created by creatives and for creatives. Every issue is packed with tutorials, art tips, studio tours, artist interviews, furniture makeovers, home decor, life lessons, and more! Give the gift of creative inspiration this holiday season with a gift subscription to The Turquoise Iris Journal.
Books
You know how I said books are a unique gift idea for staging? Well, the best ones are reference books for painting! 
Click here to find some of my favorite books for artists.
Planners 
Running a creative empire takes a lot of work, discipline, and — above all — careful planning! Make it all a little easier with a pretty planner that will help your loved one stay on track.
Where to Shop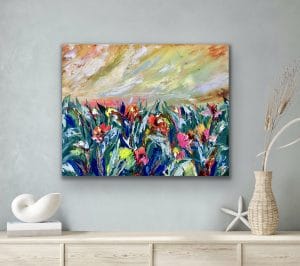 Not sure where to shop for all these gorgeous, unique gift ideas? I've got you! 
First of all, head over to my shop to find fantastic gifts for all your loved ones.
Prints –

I get it, original canvas art can be a scary thing to invest in on behalf of someone else! Take the stress out of gifting art with one of my prints, available in 4 designs and 2 different sizes.
Calendars –

Or, give the gift of fresh art every month with my new calendars! Each month features a different print and, when you're done with it, you can take the whole thing apart to frame the art or use it to create something totally different. (If you do, be sure to show me!)
Supplies –

I've got paint, products, and brushes available for you in my shop. Who wouldn't love to unwrap a beautiful bouquet of brushes on Christmas morning?!
Apparel –

If your loved one is more inclined to

wear

art than they are to hang it, why don't you consider gifting one of my silk scarves or handbags? They're all printed with my original artwork to bring a little more color into everyday outfits.
I also encourage you to check out your local artists and creatives on Facebook marketplace. A lot of artists and makers don't have the budget for flashy websites or big sales but they still have a ton of creative, unique gift ideas for you to purchase this holiday season.
No luck locally? It might be time to check Etsy! I love to buy my gifts from Etsy because it allows you to customize your search based on location (if you want to support US businesses), type of product (like vintage or handmade), and even price point.
What's your unique gift idea?
Let me know! Leave a comment on this post or shoot me an email.