It's been six weeks since I launched the new creative exploration group, Creativity at Your Fingertips. 
While I've been billing it as a sort of "finger painting for adults group," these first few weeks have shown me that it's so much more. Every week we have fun playing with paint, getting our hands dirty and feeling the colors blend and flow under our fingertips.
This has been the most vulnerable group of all of them because I'm sharing something very personal about my art practice. Each week, I talked to the members before we start painting about their mindset. I encourage them to pay attention to all of their senses. Pay attention to how they feel when the paint touches their hands, the smells the air the noise in the room or outside etc. At any point through our process I check in with the members and remind them that if they are starting to feel anxious or frustrated, it's time to take a break and walk away from the painting.
My hope is to give them an extra tool for their art process that will last a lifetime. This is very personal to me and some thing I have found to be a huge benefit for myself and I'm so excited to be sharing it with others. Intuitively, I want us all to learn to trust ourselves, not second-guess our instincts, and learn to play with colors.
We've taken to calling it the Pigment Lab because we're having so much fun with color alchemy! There's something truly magical about watching colors mix and blend under your own fingertips.
What started as a group for canvas painting tutorials has quickly turned into something powerful; a place for each of us to express ourselves artistically without any rules, expectations, or judgement. Thanks to this welcoming, supportive, and incredibly creative group, we've found ourselves and our art practices growing faster than ever before.
Just look at some of the work from our members!
Finger Painting On Canvas
Creativity Gallery from CYF Members
For our first 6 weeks, new members were encouraged to follow along with my fun floral finger painting tutorial of these gorgeous lupines! Just look at what these incredible creatives unleashed…
Kathie Butcher
Jacqueline Arsovsky
Jo Murphy
Prudy Wilke
Sue Gilbert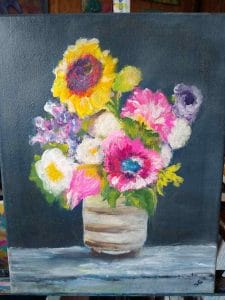 As powerful and fun as the group has been, the journey hasn't been without its hiccups. Just a couple of weeks ago I found myself unable to go live in the group! Of course I was upset but me and Mr. Matt Himself (my wonderful husband!) figured out a way to rig up my tablet so I could go live from there! 
That's the thing about playing with paint… the creativity we learn through art becomes a muscle, a reflex, a tool that we can use in every aspect of our lives. 
The Power of Creativity
The thing about finger painting is that you have to let go of control in order to truly be able to direct the piece. Can my fingers make a thin line as well as my paint brushes? No, probably not.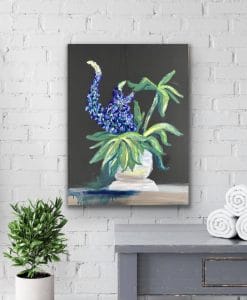 But all that means is that I have to find new ways to create the effects I'm looking for. Exploring my creativity helps me see roadblocks as opportunities — a chance to try new things, learn new skills, or even be completely surprised by what happens when I play around a bit!
Why Finger Painting is Good for Adults
One of the main objections I hear about my "finger painting for grownups" group is that, well, people look at finger painting as a childish activity. I'm not sure if that's because some people don't like the mess or if it's just because we so often try to teach kids to stop coloring outside the lines, but I'm here to tell you that the old ideas about finger painting are silly. 
Finger painting, or even just the act of putting some paint on canvas without the use of brushes or palette knives, is something that anyone can do. 
Creative exploration and artistic growth are not about the tools you buy, they're about discovering what you're really capable of when freed from all restraints.
Everyone, and I mean everyone, has an artist inside of them. Maybe yours got buried under all those years of coloring inside the lines, but that doesn't mean it's disappeared.
You might find that the creativity you've been looking for is right at your fingertips.
I truly can't think of a better way to spend my Thursday mornings than finger painting with this group!