One of the many reasons I love art is because it teaches us how to find and appreciate the beauty in everything… even old drop cloths! In my last post, I shared some photos of my new studio, including my DIY drop cloth curtains.
I was so overwhelmed by the positive response they got and it got my mind whirring. You know what happens when my mind gets started! I come up with alllll the ideas. Like this list of ways to reuse and upcycle your old art supplies!
6 Ways to Upcycle Drop Cloths
Curtains
Measure the width of your drop cloth to make sure it's the right length for your window. Then measure out and cut some holes for your curtain rod, making sure to keep them equal distances apart.
Couch pillow covers
If you have some basic sewing skills, it's rather easy to transform your drop cloths into a pillow cover! Be sure to wash your drop cloth first. I also recommend that you only make this project if you're using DIY Paint— it's the only paint that will stick to the fabric without any harsh chemicals.
Garland
There are these gorgeous rag garlands that are all over Pinterest. How beautiful would that be with drop cloth? Just tear your drop cloth into small strips of equal length and tie them along some twine. Add in some ribbons, lace, or other fabrics for a little more texture and color.
Table Cloth
With a simple hem, a drop cloth could make a colorful, fun table cloth.
Tree Skirt
My dad always had this fun (and now-vintage) aluminum Christmas tree with a color wheel. Add a drop-cloth tree skirt and it would be the PERFECT tree for an artist.
Wall art
How easy would it be to take some of the scraps from the other projects and put them in a frame? Abstract, colorful art will always be a conversation piece.
Drop cloths aren't the only way to reuse art supplies in new and exciting ways. I also created these fun paintings from wood palettes!

The incredible Debi Beard created this paintbrush chandelier, which has now gone viral!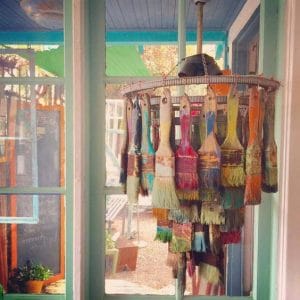 Have you created anything from old art supplies? Let me know! You may be featured in an upcoming blog.
Don't forget to visit Paint Pixie and DIY Paint for all your art supply needs!
XOXO,