It's official: Very Peri is the color of the year for 2022, at least according to the folks over at Pantone. Around here we call that color "Water Lily," because it's a staple color in every DIY Paint stash! I've been using Water Lily in my pieces for a few years now because it's such a happy color. Here is some Very Peri Color Palettes that should inspire you to pop some periwinkle into your life!
Very Peri Color Palettes for Furniture
Whether you prefer a muted palette or lots and lots and lots of color, periwinkle is a pretty accent to almost any palette!
Veri Peri Palette: Monotone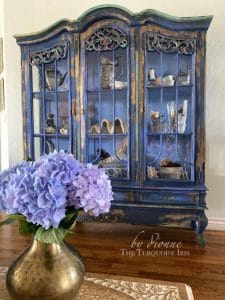 I love this piece so much that it lives in my home! The entire interior of this china hutch is painted with Water Lily and I used pops of Blue Iris, Mint Chip, and gold for some highlights! I think that this periwinkle shade is a great base for furniture because it plays so well with so many different colors.
Very Peri Palette: Complementary 
One of my favorite color combinations is periwinkle, yellow, green, and pink! It's a very nature-inspired palette that is super versatile for a lot of decor styles and these complementary colors are very pleasing to look at! 
Very Peri Canvas Art
Canvas art is the perfect place to play around with color trends because it's far less permanent than furniture. I love incorporating new trends and styles in my decor using canvases.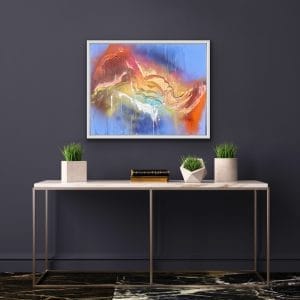 Very Peri Fashion
No matter what your personal style is like, you can always count on accessories as an easy way to try a new trend in your wardrobe. I love using Water Lily when I hand paint my line of artisan hats. 
Very Peri Palettes for 2022
Here are some of the color palettes I think we'll see a lot of in 2022! I can't wait to take a look back and see if I'm right.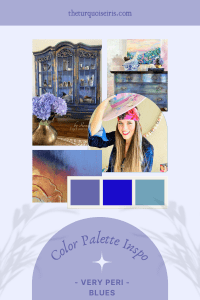 Which one is your favorite?
Let me know how you'll be adding Very Peri to your life!