In October 2022, I had the opportunity to film a special episode for BloomTV with Women Create! Thanks to the help of the amazing two-person film crew, I learned a ton of valuable information about recording and shared it in a blog post. Now that the video is out, I am able to compare the recording experience to the finished product and make a list of even more video tips for artists to use!
Video Tips for Artists 
Whether you're a total beginner or you're just looking to add more professional, engaging, and entertaining video content to your repertoire, these tips are the difference between keep scrolling and I LOVE this! These video tips are perfect for artists because they're all about the creative process that happens before you ever hit record. 
Identify your goal.
What kind of video do you want to make? Are you going to create a skit, an explainer video, a vlog, or something totally new? I was lucky enough to work with a crew who had received creative direction from BloomTV and Women Create. We knew that we wanted a video that was warm and friendly, like the viewer was just someone visiting my home for the first time. 
Know your audience.
Who are you making this video for? This part of the recording process is so important because it impacts whether or not your video gets views! Is your audience looking for a funny video or something professional and straightforward? Make sure that the content you're creating is actually going to reach its intended audience.
Do your research.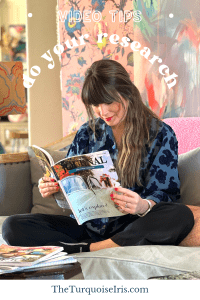 The best way to learn about filming a great video? Watch some great videos! More importantly… Take notes. What do you like? What engages your attention? What angles are used? What sort of music? The goal is never to copy other creators, it is to identify what you like so that you understand how to create a video that is uniquely your own. 
Make a plan.
The best thing you can do before hitting record is to know what, exactly, it is you need to get on camera! First start with how long your video needs to be. Then break your video into segments. How much time is needed for your introduction, hook, content, and call to action? What are the angles you will need to capture? Will there be voiceovers? Transitions? Make a shot list, script, story board, or whatever else you prefer so that you can quickly and easily record everything you need. 
Tell a story.
Every single person involved with my episode kept reminding me of this important message: we need to tell a story. Humans are innately drawn to storytelling, it is what brings us all together. We need to connect with our audience by telling them a story! This doesn't mean you always have to get deeply personal, nor would that sort of storytelling make sense for many types of video, but it does mean that we need to make our video content relatable to our audience. We want them to connect with our message because that will help them understand it better!
How I've used these video tips for artists… 
I was so inspired by the video that I created with BloomTV and Women Create that I decided it was time to update my video content. I have spent many years going live across so many platforms, from Facebook and Instagram to YouTube and now Pinterest! Honestly, I really love going live and getting to interact with my friends online while I paint. But this world is a busy place and not everyone has time to sit down and paint with me, or join me for a mindset chat, or take a tour through my studio. 
So I decided to take some of that time I spend going live and use it to create shorter, edited videos so that everyone has a chance to enjoy a little more creativity in their lives! 
Of course, more edited videos means more editing and, well, that's not really my jam… So I asked my husband (known to our live video viewers as #MoreMatt because, well, they always want #MoreMatt) to help me start this new chapter. Thankfully, he said yes!!!
Here is one of our latest…
What did you think of these video tips for artists? Do they inspire you to create some video content?