I've had a lot of questions from curious creatives about what they should expect when attending an art retreat. While I can't speak for other retreats, I've hosted several retreats of my own so I thought I'd share some details about what really happens at an art retreat.
My most recent retreat took place in one of my favorite places on earth: Galveston, Texas. There's something about a beach that enhances my creativity! Plus, as one of the oldest creative hubs in the United States, Galveston has a rich art history that makes the perfect setting for a week of connection, creating, and painting from the heart.
What Really Happens at an Art Retreat: Art!
Every retreat begins with a welcome party. All attendees get together to set the tone for the week — we lay our goals out on the line for everyone to see. We open up about the things that matter to us so that each of us can be there to help support those goals all week long. 
The ultimate goal that I have for every retreat is knowing that, when our attendees walk through the door, they can immediately feel that it is a safe space to break down barriers and get vulnerable. It's so powerful to connect with other women in a way that really encourages us to let down our guard and open up in a way that only art allows. Every workshop is about cheering each other on; no conditions, no judgment, and no excuses. And I mean literally cheering each other on — at one point we were chanting each other's names because everyone deserves to have that experience at some point in their lives.
Then the art starts! The wonderful Kelly Wiler of Girl, Upcycled Studio was my special guest at our latest retreat. An intuitive painter, Kelly taught our attendees how to find and nurture their unique creative instincts. Attendees had to learn to let go of control and to truly listen to the quiet inner voice inside us all. 
I also got a chance to teach a highly-detailed, step-by-step canvas painting tutorial! I love getting the chance to walk through every single step of my creative process, including why I make some choices and how my instinct often guides me, so that everyone who attended leaves saying "I can't believe I just painted that!"
And they always do!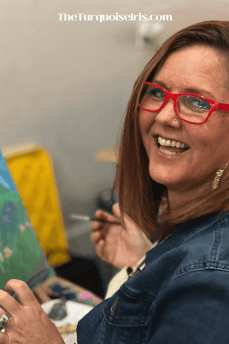 Art Retreats Are for Everyone!
I don't want anyone to hear about an art retreat and think, "I'm not an artist, that's not for me," because there is one thing I know with absolute certainty: we all come into this world with the instinct to create and we are all artists by nature.
An art retreat is for everyone because it's not about creating beautiful art (though you'll do that, too!) but about exploring our creativity and breaking down the disconnect between our desire to create and taking action. For the most part, the things that hold us back from creating are things like fear of failure, imposter syndrome, guilt, shame, trauma, and simply not trusting our creative vision. 
Learning to conquer self-doubt will help you with art but, more importantly, it will ripple through every aspect of your life so that you feel happier, confident, self-assured, and inspired to accomplish whatever it is your heart is set on! That's really what I want our attendees to walk away with. 
What Attendees Have to Say
Obviously, I think art retreats are great because I love hosting them. But I also happen to know that our attendees think my retreats are great, too, because we always get such fantastic feedback at the end of the retreats! People always say that they leave feeling like the best version of themselves. Better artists, people, friends, mothers, partners, daughters… And, really, isn't that how we want to feel all the time? 
"I'm sure I'm not the only one with major withdrawal symptoms, missing everyone and wishing to be back in Galveston at the Clay Cup. It was lightning in a bottle for me, personally. It provided a safe haven to be creative and silly without fear in my heart. It not only gave me the courage to paint but also the courage to be my authentic self, free from egoic fears, negativity, and criticism… The courage to align with my authentic self. I realized that I was with a group of beautiful women that were all engaging strictly from the soul level, not one ego to be found, each radiating their authentic soul self. It's a rare occurrence indeed, especially in these troubled times. Image if the world operated at the soul level and all the abundance that accompanies it…  It was truly life-changing for me and I hope to be reunited with all you wonderful soul sisters one day."
"This week was so amazingly beautiful for me I learned so many things, about painting and myself. I can do things that feel hard, even if I'm scared or alone and I can learn new things! I'm so blessed to have had this opportunity. I know that many many women would love to be able to come and have the experience that we have been able to have. Each of you has given me something special to take away from this week… There is no judgment and our group is a safe place."
"It was the most amazing experience I've had in a very long time.  Thank you for welcoming me without hesitation and for all the love and support I received.  I've never met such an amazing group of women before.  I'm so sad it had to end but grateful for the experience."
This is all to say that sometimes our greatest growth happens when we let down our guard; when we push away fear and put it all on the canvas.
Click here to learn more about my retreats!